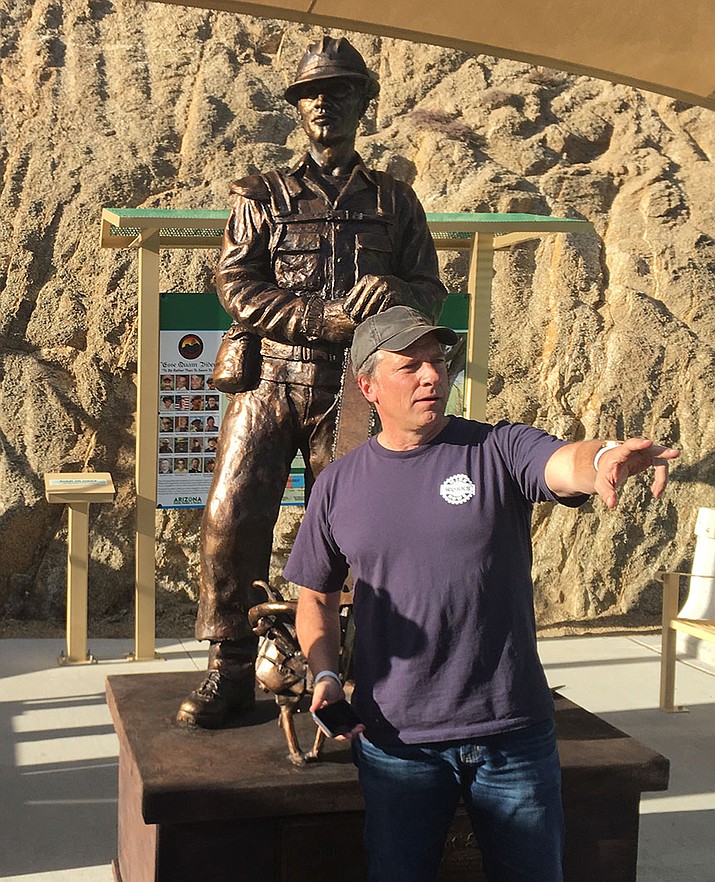 Originally Published: April 18, 2018 6:02 a.m.
A new episode of the Facebook Watch series, "Returning the Favor," honors efforts by two women who lost family members in the Granite Mountain Hotshots tragedy in 2013.
Deborah Pfingston, the mother of fallen Hotshot Andrew Ashcraft, and Roxanne Preston, the wife of William Warneke, are featured in the series by Mike Rowe, the internationally recognized host of "Dirty Jobs."
The episode, which became available online on April 17, recognizes the Wildland Firefighter Guardian Institute, an organization that works to champion firefighter safety through independent investigations, education, and real-life support for firefighters, families, and the fire community.
"Returning the Favor" follows Rowe as he travels the country in search of remarkable people making a difference in their communities, according to a news release from Arizona State Parks.
The news release adds that the show "gives back to those who pay it forward with humor, heart, and surprise."
Pfingston and Preston are the founders of the Wildland Firefighter Guardian Institute. Andrew Ashcraft and William Warneke were among the 19 Granite Mountain Hotshots who died while fighting the Yarnell Hill Fire in June 2013.
Arizona Gov. Doug Ducey joined Rowe at the Granite Mountain Hotshots Memorial State Park in January to honor the efforts of Pfingston and Preston.
"The important work the (institute) does to remember the ultimate sacrifice of the Hotshots and to their work to help wildland firefighters across the country is worthy of this honor," Ducey stated in the news release.
It adds that Pfingston and Preston were presented with a large bronzed statue of a Hotshot, which will be on display at the memorial park, as well as with $5,000 worth of firefighter equipment from STIHL Chainsaws.
"More than 36,000 visitors have come to the park since we opened it in November 2016," Arizona State Parks and Trails Executive Director Sue Black said. "With the recognition from Mike Rowe and this statue honoring the fallen Hotshots, we know even more people will want to come to pay their respects."
Black, along with former Prescott Fire Chief Darrell Willis, and fire professionals from across northern Arizona were on hand for the recording.
Due to limited parking at the memorial park site, Arizona State Parks & Trails offers a shuttle service from the Arrowhead Bar and Grill, located five miles south of the park on Highway 89. The
shuttle runs from 7:30 a.m. to 4 p.m., seven days a week.