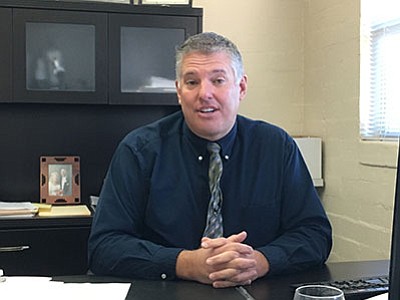 Originally Published: April 16, 2018 6 a.m.
At their meeting on April 3, the Chino Valley Unified School District Governing Board (CVUSD) approved contracts for returning teachers, directors, administrators and other certified staff for the 2018-2019 school year.
This marks the beginning of the end of hiring season as staff will need to sign their contracts by the first week in May if they are coming back next school year.
If past years are any indication, we will turn over 20-25 percent of our teaching staff next year. Almost all the teachers leaving the District will either move out of the area or leave the profession.
We have had to be creative to attract candidates to staff our open positions. The competition for all teachers is fierce but particularly so for hard-to-fill positions such as special education, math, language arts, and science.
For these positions we can offer one time signing bonuses to help compensate for moving expenses. Chino Valley Schools has the luxury of offering candidates a four-day work week which has been a game changer for recruiting staff. Many candidates, particularly younger teachers, are willing to take a little less pay in exchange for a four-day work week.
With the help of the Yavapai County Education Service Agency (YCESA), area districts and schools have had teacher recruiting opportunities that other rural counties don't.
In early March, a group of area administrators traveled to South Dakota to attended job fairs at Black Hills State University and Sioux Falls looking for teachers in a variety of subject areas.
The YCESA also arranged to fly some of the candidates that we met to Yavapai County to interview with area districts. This is the third year that we have recruited teachers from South Dakota.
The time and money spent on recruiting in South Dakota is well worth it as the teachers that come to the area recruited from these trips have proven to be highly effective teachers.
In late March the YCESA also hosted the 2nd Annual Northern Arizona Teacher Job Fair. This was a cooperative effort with Yavapai College who hosted the event at their community room in the YC library.
Districts and schools from all over the county sent representative to recruit and interview potential candidates.
This event is unique in that the candidates that attend are looking for teaching positions in Yavapai County. When we attend other statewide teacher job fairs, usually in the Phoenix area, the candidates generally are looking for jobs in Maricopa County with a very small number willing to relocate to other areas of the state.
If you are a teacher looking for an opportunity to work for a district with high academic standards, great students, and a four-day school week, look at our available positions on the CVUSD website at www.chinovalleyschools.com.
If you don't have a teaching certificate but would like to work for CVUSD, we will be filling our open nonteaching positions in June and July. In either case, check our website often as positions may open at any time.
More like this story