Originally Published: April 16, 2018 6:02 a.m.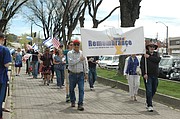 About 30 or so people marched around courthouse plaza Sunday, April 15, as some blew shofar trumpets, doing so in remembrance of the Holocaust. Called the March of Remembrance, it was an observation of Yom HaShoah, Day of Holocaust Remembrance, which was observed in Israel April 12.
Ahava B'Shem Yeshua Messianic Fellowship does the March of Remembrance every year, said Leader Al Rodriguez.
In fact, there were similar marches all over the United States, Rodriguez said. It's the American sister of the global March for Life movement which began in Germany in 2007, according to a prior release sent by Robin Walton, a member of the board of Ahava B'Shem Yeshua Messianic Fellowship.
The March for Life has engaged hundreds of cities and churches across the world, including those in Ukraine, Latvia, Lithuania, Poland, Austria, Hungary, Switzerland, France, Paraguay, Argentina, Uruguay, Peru, Bolivia, Belarus, Columbia, Canada, Ireland, Australia and the Philippines.
The goal is to keep the lessons of the Holocaust alive and remembered, the knowledge of which is fading, Rodriguez said.
"Only 31 percent of the kids today know about the Holocaust," he said. "That's a shame."
Participants marched around courthouse plaza three times, picking up a few people along the way. Though there were only about 30 or so people this year, there's usually a bigger turnout, Rodriguez said.
Not many people showed up this year because it wasn't really advertised, he said.
Though there wasn't any significance the amount of times they marched around courthouse plaza, there was when it came to the Shofar trumpets some were blowing, Rodriguez said.
"Shofar is used to bring attention," he said. "We blow them every Saturday."
For next year's March of Remembrance, Rodriguez said he hoped to get a band to play Messianic music.
More like this story