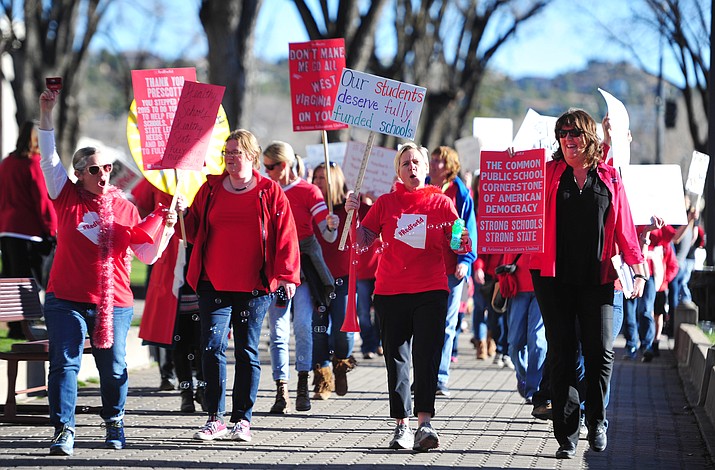 Originally Published: April 16, 2018 6:03 a.m.
On Page 3A in today's Courier, we published a story about teachers struggling with second jobs due to their financial circumstances.
That news report struck a chord with me.
The story, "'I just have to do it.' Teachers struggle with second jobs," forced me to think about all the teachers I've known for years. I immediately tried to place them not only in the classroom, but in that dreadful second job that kept them away from their families.
Although I'm not a teacher, myself, I have good friends, even family members, who have accepted the calling to teach today's youth. It is, after all, a calling. Make no mistake.
My history teacher in middle school worked at a local grocery store bagging groceries on weekends. My high school auto shop teacher drag-raced his 10-second car on Saturday's for extra cash. And a good friend who coached basketball with me in the winter would tend bar at a local pub in the summer to help pay the bills.
There are many such examples.
I know teachers who cover Friday night football games for local newspapers to make an extra buck. I know teachers who coach high school sports for not only the love of the game, but also for an extra-duty contract and stipend.
I also know plenty of teachers who are married, but whose significant other is forced to work to make enough money to allow the teacher in the family to continue working as a teacher. Teaching isn't just 7 a.m. to 3 p.m. Monday through Friday. Let's also take into account grading papers, lesson planning, volunteering to help student council, coaching for free, volunteering to run the PTA, the booster club, the chess club, the robotics club and much more.
It is endless.
The #RedForEd movement has arrived in Arizona. This movement is moving mountains in political offices in this state across the country. Recently, Arizona Gov. Doug Ducey pushed legislation that would give teachers a 20 percent pay raise over the next three years. Good for him! At least he's trying. Will his plan actually go into effect? I hope so. But it's a good first step. After all, the country saw West Virginia and Oklahoma teachers "walk out," completely shutting down the education system in their respective states for days until legislators gave in to their demands for better pay.
I hope that such drastic measures will not be required in Arizona for teacher salaries to be increased.
As for this so-called "average teacher salary" of $55,100 in the United States, I struggle to believe that number. Try $35,100. In many places, it's probably even lower. Such is the life of a teacher in Arizona.
Let's hope that one day soon teachers in Arizona can give up that second job that is supplementing their income and focus on what their real passion is. Our kids deserve it.
Brian M. Bergner Jr. is sports editor for The Daily Courier. Follow him on Twitter and Instagram at @SportsWriter52, or on Facebook at @SportsAboveTheFold. Email bbergner@prescottaz.com or call 928-445-3333, ext. 1106.
More like this story