Originally Published: April 15, 2018 6 a.m.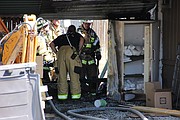 A Prescott Valley home on the 8000 block of N. Pinon Dr. caught fire after an outdoor freezer sitting in the carport suffered an electrical malfunction Friday afternoon.
Central Arizona Fire and Medical Authority responded to a 911 call from neighbors at 2:21 p.m. and arrived on scene with the outside of the home, the carport and a wood fence on fire.
The residents were not home at the time, according to a release.
The fire department was successfully able to keep the fire from spreading, containing it to the exterior siding, part of the roof, the freezer and other miscellaneous items stored in the carport.
Fortunately, no interior damage to the home was done, according to Fire Marshal Rick Chase, and no injuries were reported.
More like this story