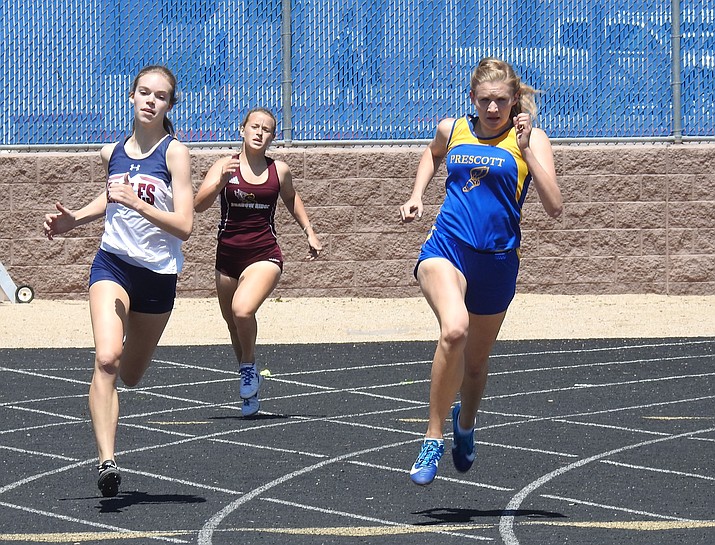 Originally Published: April 14, 2018 11:47 p.m.
Updated as of Sunday, April 15, 2018 6:05 AM
Molly Courtright wins 400, helps 4x400 take 1st in Phoenix
PHOENIX — Prescott's girls' track and field team placed fifth and its boys' squad took ninth out of 16 teams at the seventh annual Pioneer Invitational Saturday afternoon at Pinnacle High School.
On the girls' side, the Badgers' 4x400 relay team of Cami McKelvey, Emma Lloyd, Caeden McKelvey and Molly Courtright won in 4 minutes and 18.92 seconds, while the 4x800-meter relay team of Carissa Evans, Tea Castro, Alyssa Moise and Makenna Bray claimed third in 10:28.35.
Courtright won the 400 in 60.38 seconds and nabbed third in the 200 in 27.031.
In the field, Britany Resendez placed first in the shot put (34-4), and Emily McMahon was fourth in the 2-mile (12:40.89). Caeden McKelvey placed third in the javelin (95-4). Fourth-place finishes went to Makenzie Ingallina in the pole vault (8-6), Alisha Pestana in the long jump (15-8) and Olivia Fletcher in the triple jump (32-6).
On the boys' side, Matthew Bradley snared second in the mile (4:27.89). The 4x100m relay team of Bryce Peters, Hunter Kronberg, John Chaffeur and Nicolas Robishaw crossed the line in fourth (45.37 seconds).
In the field, Sam Teuscher was second in the javelin (142 feet, 1 inch).
UP NEXT
Prescott will compete in the Desert Vista Last Chance Meet, a state-qualifying meet, at 1 p.m. Wednesday, April 25, at Desert Vista High School in Phoenix.
Doug Cook is a sports reporter for The Daily Courier. Follow him on Twitter at @dougout_dc. Email him at dcook@prescottaz.com or call 928-445-3333, ext. 2039.
More like this story