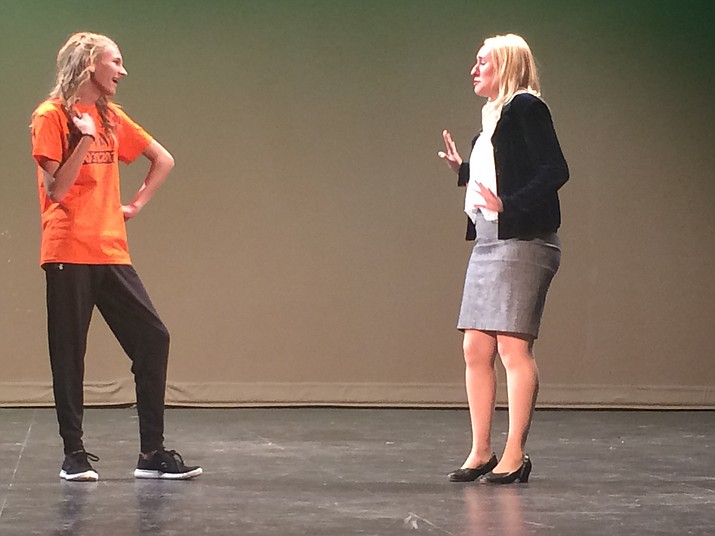 Originally Published: April 12, 2018 6 a.m.
See the story of Elle Woods and her attempt to win back her boyfriend by getting a law degree in Prescott High School's production of "Legally Blonde."
With shows at 7:30 p.m. Thursday and Friday, April 12-13 and at 2 p.m. and 7:30 p.m. Saturday, April 14, director Layla Tenney said she wanted to do a girl-empowering show after putting on "Robin Hood" in the fall. She also wanted to do a contemporary show, Tenney said.
"I just love the idea of Elle pursuing her dreams and being smart," she said. "I feel like there's not a lot of instances in plays where girls are notable for their education or pursuing goals on their own."
Originally a film released in 2001 starring Reese Witherspoon, "Legally Blonde" was turned into a musical in 2011, Tenney said.
Tickets are $10 for adults and $5 for students and all shows are at Prescott High School's Ruth Street Theater, 1050 Ruth St.
The students have been rehearsing since January and a lot came out to audition, Tenney said. Not everyone who did was a drama student either, with some in choir along with other students who aren't in either program, she said. There's a lot of new faces with a majority of the actors being freshman and sophomores, and the only senior being Amanda Hugeri, who plays Elle Woods, Tenney said.
One of the more difficult parts of putting the show on has been the process, she said. It employs a lot of transitions due to the set being simple but convoluted, Tenney said. Those transitions have helped everyone come together, she said.
There's still kind of a learning curve in transitioning from directing shows at Prescott Center for the Arts to Prescott High School, Tenney said.
"There are certain elements I would have liked to use," she said. "We have a great fly system here and I don't get to use it as much as I'd like. We also have a technical builder who comes and he does tech work and he builds all the set pieces, but he can only come out on Friday. It's been really difficult not to have this grandiose set, but have this small idea where we have these giant steps that rotate and each rotation signifies a different location."
Still, "Legally Blonde" is an exciting, energetic and funny show, encouraging girls to follow their dreams Tenney said.
For more information, call Prescott High School at 928-445-2322.
More like this story