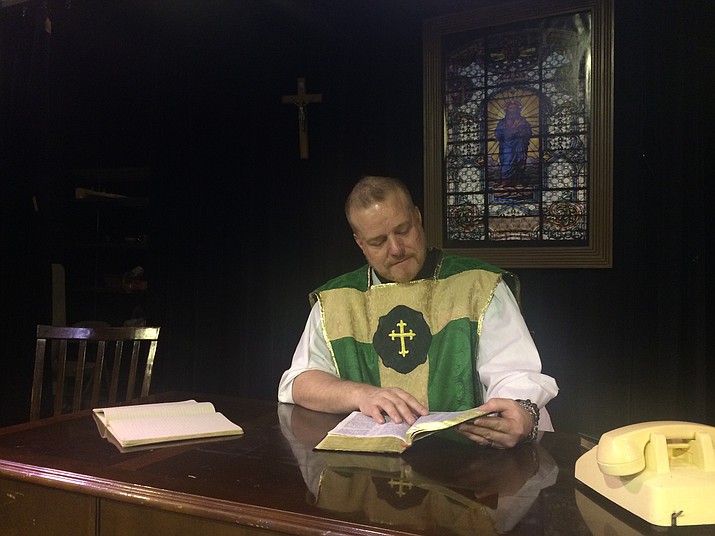 Originally Published: April 6, 2018 5:58 a.m.
John Patrick Shanley's play "Doubt: A Parable" – winner of the Pulitzer and Tony awards -- is coming to Prescott Center for the Arts' Stage Too, directed by Jean Lippincott.
Robyn Allen, PCA executive director, had performed in the show as Sister Aloysius several years ago, Lippincott said, noting she'd also seen it on Broadway. She'd previously directed a lot of heavy dramas, and the story was something she thought she'd like to sink her teeth into, she said.
"The whole idea that what do you do when you have doubt," Lippincott said. "If you're not sure and you don't have any evidence, but you just know, in your heart."
The play is set in the Bronx at a Roman Catholic school in the mid-1960s, during the Church's second ecumenical council, Vatican II. During that time, the church was changing, pulling away from some longstanding practices, like the clergy saying mass in Latin and requiring Catholics to eat fish on Fridays, even outside of Lent, and requiring women to cover their head to be in church and reaching out to families, Lippincott said.
The school's principal, Aloysius, played by Marnie Uhl, does not believe in the direction the church is taking and wants the old ways while Fr. Flynn, played by Michael Dickson, likes the new shift, Lippincott said.
Conflict arises when Aloysius, who also doesn't like Flynn, make some serious accusations against him, Lippincott said, noting that ultimately, the playwright Shanley left the veracity of Aloysius' charges ambiguous.
"You end up with doubt as an audience member when you leave," she said. "The whole story appealed to me because you just don't know. But we do have things like this that happen in our daily lives when people accuse people of things, and are they right?"
The biggest challenge to putting the play together has been getting the emotions right at the right time, Lippincott said.
"There's a lot of high emotions; there's a lot of accusations," she said. "The tendency with a play like this is just start out angry and go angry through the whole thing and make the whole play about anger. It's not very interesting to watch that if you're an audience member. The real challenge has been bringing out the emotions and conflicts carefully to the point, at the end, where there's a big conflict where it does explode between the father and Sister Aloysius."
Performing as Flynn has its challenges, said Dickson. He's the same age as the character he plays in "Doubt." Flynn's life experiences have placed him in a position in which he's questioned in some ways, Dickson says.
He said he approached the role by embracing the truth of what he feels Flynn is. As an actor playing Flynn, Dickson said that he sees the genuine heart in Flynn while at the same time recognizing how someone without any proof could have doubts about him.
"I wouldn't want to have gone up against Sister Aloysius in real life because the accusations are so atrocious," Dickson said. "She's going to ruin my career as a priest … ruin my life, frankly."
The show, at Stage Too in the alley behind the Prescott Center for the Arts, 208 N. Marina St. is at 7:30 p.m. Thursdays through Saturdays -- April 12-14, 19-21 and 26-28 -- with 2 p.m. matinees on Sundays, April 15, 22, and 29. Tickets are $17 for all performances and can be purchased online at www.pca-az.net.
More like this story