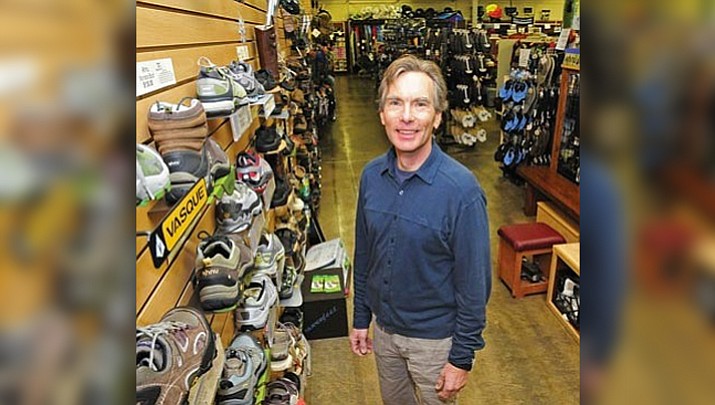 Originally Published: April 4, 2018 6 a.m.
After 11 years in business, Prescott outdoor supplier Manzanita Outfitters is closing down.
Owner David Wheeler said the timing of the closure was based on the store's lease renewal coming up.
"Given trends for brick-and-mortar retail, I didn't feel it was appropriate for me to sign up for another lease renewal," he said. "We've been doing well for the last few years (but) the trends lately have been less well, and before things aren't good at all, it's an opportunity for us to get out."
Sales volumes and revenues are dropping, Wheeler said, and "competition, not just from online, such as Amazon, but from our own suppliers going online, direct to our customers, it just becomes difficult to fend all that off."
Also contributing to the weakening sales is competition from big-box stores, he added.
"I am heartbroken that it's closing. I also own a store downtown and online shopping has definitely taken its toll," said Sheri Shaw of Prescott. "What people don't understand is how much more money is kept in the local economy if you shop local. We must start keeping our money here."
Diana de Malignon, of Prescott, said, "I am sorry to see them go. I usually don't buy outdoors equipment online as it is better to see and hold those type of items."
"I guess it is the reality of our times, another empty building, another choice removed from our list," said Prescott resident Daniel Zehner.
"I have shopped there in the past," Prescott resident Brian Kosich said. "I tend to favor Amazon due to pricing and selection."
The store, in the Depot Marketplace, 377 North Montezuma Street, is closed today, Tuesday, April 3, but will re-open Wednesday at 8 a.m. and all merchandise will be marked down to "liquidation prices," Wheeler said.
The store will close when everything is gone or the end of May when the lease is up, he added.
Customers have told him that "they're sad to see it go, and … they enjoyed coming in," Wheeler said, "and we enjoyed having them.
"It's just time for me to do something different," he said. 'After 11 years of retail, I'm ready for something new."
Wheeler's other business, the kayak rentals at Watson and Goldwater Lakes, will remain open, he said.