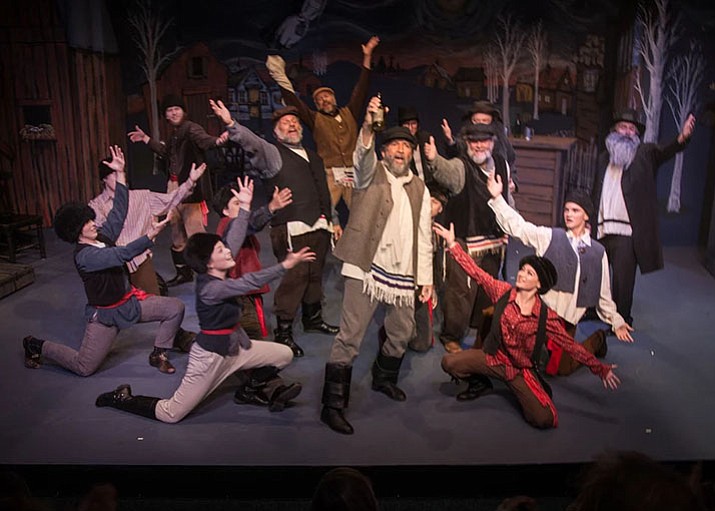 Originally Published: September 29, 2017 6 a.m.
Every so often, perhaps when the stars are aligned just right, a community theater musical offering rises to the level of a professional "big city" production. Kudos to Prescott Center for the Arts for the spectacular achievement that surely is its current staging of the evocative hit musical "Fiddler on the Roof."
Frank James Malle directs the sizable cast required to depict the community of Anatevka, a quaint Jewish village in 1905 Russia, just before the Jews were expelled from the region.
With music by Jerry Bock, lyrics by Sheldon Harnick and book by Joseph Stein, "Fiddler" does not suffer at all for the production's use of a recorded instrumental score. Instead, the exciting live violin passages performed, often atop the set's roofs(!), by actor/violinist Nathan Wiggins, provide a worthy trade-off. Of course "Fiddler on the Roof" should have a real fiddler on the roof! How wonderful!
Judy Clothier and Noelene Patterson have designed a beautifully detailed set to showcase fabulous choreography by Pam Cannedy and Stepan Oleksyn. Honestly, you'd never know the players are amateur actors, singers and dancers. A minute into the show's first production number, the vibrant "Tradition," I already had butterflies in my stomach from excited anticipation.
Darrell James Rowader portrays dynamic main character Tevye, a poor dairyman with five daughters, three of whom are of marriageable age. The
show is endearing in part owing to Tevye's lighthearted, questioning asides to God. Rowader's Tevye is everything the character should be, forceful but kind, traditional yet willing to bend, philosophical in a peasant's grounded sort of way. His solo vocals in the famous "If I Were a Rich Man" excel.
Tevye's eldest three daughters (played by Judah Neese, Sophia Grubert and Lily Grubert) sing and dance the delightful "Matchmaker" in the hope that, against all odds, village matchmaker Yente (Judy Clothier) will find each her hoped for version of Prince Charming.
But even though Anatevka is well removed from distant city centers brimming with progress and change, modernity still "knocks" at the village's "door." One by one Tevye's eldest daughters seek to choose their own husbands! As Tevye articulates, "Unheard of! Unthinkable!" For two of the young women, he relents. Eldest daughter Tzeitel (Neese) and her betrothed, the poor tailor Motel (Wesley Traver), are so relieved and grateful that they radiate exuberance in the joyful "Miracle of Miracles," a number whose lyrics always bring tears to my eyes.
The wealthy Lazar Wolf (Rob Kaufman), who had hoped to marry Tzeitel, must somehow accept the bitter pill of rejection in spite of the agreement he has already made with Tevye and Yente.
In order to make his decision to allow Tzeitel to marry Motel palatable to his wife Golde (Michelle Grubert), Tevye contrives a prophetic nightmare featuring Grandma Tzeitel (Joanna Cole) and Lazar Wolf's first wife Fruma Sarah (Connie Arnold), both deceased. The fantastic dream sequence -- its creative costumes and makeup, its frightful depictions of the two apparitions -- is a highlight of the show.
The sober "Sunrise, Sunset" ends the first act.
Act II finds all three daughters married, for better or for worse (literally!). Each has married for love, a concept foreign to Tevye and Golde, whose marriage was arranged 25 years earlier. In the moving "Do You Love Me?" Tevye wonders, for the first time, if Golde
loves him. She resists answering his query, thinking it silly and beside the point. But he presses her until she ultimately relents, ponders the question and responds. It is one of the play's most touching moments.
Second eldest daughter Hodel (Sophia Grubert) performs the affecting "Far From the Home I Love" as she prepares to join her beloved, the learned social activist Perchik (David Perez), in Siberia.
The show ends as the villagers have been forced to vacate Anatevka, most en route to join relatives in America. The ensemble number "Anatevka" is both sad and hopeful.
Everything about this lavish production shines -- the set, the costumes, the choreography, the acting, the vocals, the chemistry. Just purchase your tickets and go.
"Fiddler on the Roof" is presented on the Mainstage at Prescott Center for the Arts Theatre, 208 N. Marina St. in downtown Prescott, through Oct. 15, 2017. Evening performances are Thursdays, Fridays and Saturdays (plus Wednesday, Oct. 11) at 7:30 p.m.; evening performance ticket prices are $16/$23. Matinee performances are Sundays at 2 p.m.; matinee ticket prices are $14/$19. For tickets visit the PCA website at pca-az.net or call the box office at 928-445-3286.