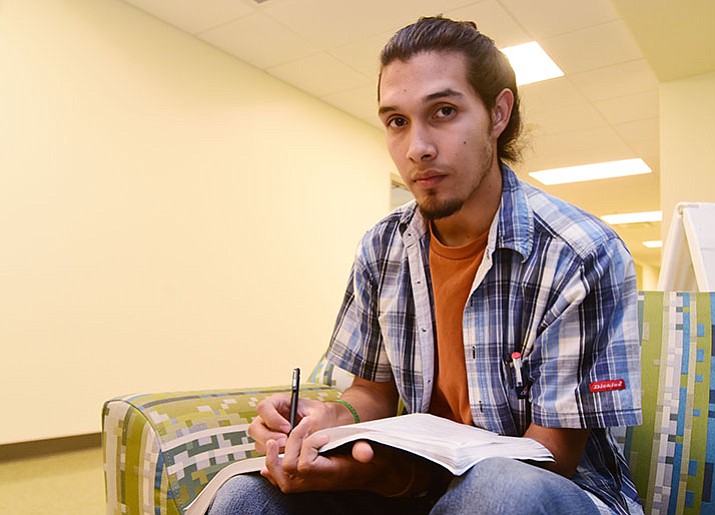 Originally Published: September 29, 2017 6:02 a.m.
DACA DEADLINE
People who have registered under the Deferred Action for Childhood Arrivals Act must renew their permits before Oct. 5, allowing them to legally stay in the United States longer.
Scholarships available: Prescott Indivisible is offering to pay the $495 fee for four people. Information, call 928-308-3806 or 928-277-8260.
Sergio Gonzalez, 19, has lived in the quad-city area with his family for about 12 years.
His parents brought him to the United States from Sonora, Mexico, using a tourist visa.
"I can't remember if I was 7 or 8 when we moved here," Gonzalez said.
They overstayed the temporary terms of the visa and continued living in the U.S. as undocumented immigrants.
Since then, Gonzalez has gone through the public school system locally, made friends, and built a life.
"We've been here so long that I can't remember my time in Mexico," he said.

Early on, they were scraping to get by in the U.S.
"I just remember it being a struggle," Gonzalez said. "I remember the bills were always tight."
When Gonzalez turned 16, he applied for the Deferred Action for Childhood Arrivals (DACA) and it changed everything.

He was able to start working a legally secure job to support himself and his family, obtain a driver's license, enroll in college and speak more openly about his predicament as someone who only knows a life in the U.S., but is uncertain about his future in this country.
That uncertainty turned into discernible fear when President Trump announced in early September that his administration would be phasing out DACA, a program started by the Obama administration in 2012.
"If I were to be deported, that would be complete fear," Gonzalez said. "Life is very different culturally in Mexico. I don't think I'd be able to live through the burdens that my parents got out of."
Where DACA stands
Along with nearly 800,000 other undocumented immigrants, Gonzalez is now at risk of losing his legal status currently provided through the DACA program.

The only chance he has of maintaining his freedom in the U.S. is if Congress decides to pass legislature that reestablishes some form of temporary or permanent deportation protection for Dreamers.

Congress has six months to pass such legislation before the DACA program officially ends on March 5. Several bills by both republican and democratic members of Congress have already been introduced, but none have yet successfully made it through the voting process.
Local support for DACA
Since Trump made his decision to phase out DACA, at least a couple of local organizations and institutions have vowed to help dreamers in any way they can.
Prescott College's president, John Flicker, for instance, recently released a statement condemning the executive order.
"This decision affects not only some of our students and colleagues – as well as their families and friends – but also the entire Prescott College community," Flicker said. "We will be working with others in higher education to urge the President, Congress and other federal officials to reinstate DACA protections and to protect the rights of those with DACA status."
The college has had a long history of working with immigrant rights groups and standing in solidarity with undocumented students. Last year, it even supported the creation of an annual scholarship called the Freedom Education Fund that is specifically reserved for undocumented students who wish to attend the college.
In light of the current situation, the higher education institution is currently reviewing and revising its policies to assure its campus remains safe for all students regardless of identity and background.

"We will vigorously protect the privacy of student information and records in accordance with the Family Education Rights and Privacy Act and best practices for schools developed by the National Immigration Law Center," Flicker said. "We will not allow agents of the federal government nor local law enforcement on campus to enforce federal immigration laws without a lawfully issued warrant."
A grassroots organization called Prescott Indivisible has also risen up as an advocate for Dreamers.
Their immigration team has been disseminating helpful information and resources that they hope are reaching Dreamers.
"We believe the young people protected by [DACA] deserve to remain in this country, free of hassles and worries that they will be deported," said Susan Jones, captain of the immigration team. "They study, work, pay social security, and contribute to our economy. They deserve a path to citizenship."
One step the organization has taken is to remind those whose DACA status expires between now and March 5 to re-apply for the program by Oct. 5. They're also offering four scholarships to cover the re-application fee.
"We have members and anonymous donors who believe in this program so strongly, that we are helping those who have not yet renewed by offering to pay the required $495 fee, which for some is a harsh economic burden which has prevented them from renewing," Jones said.
Gonzalez encourages other Dreamers to get involved with such groups and to advocate for themselves, for he believes simply keeping their heads down at this critical time does nothing to help their plight.
"Inactivity is really bad," Gonzalez said. "People just not knowing and just not doing anything about it is a big concern."