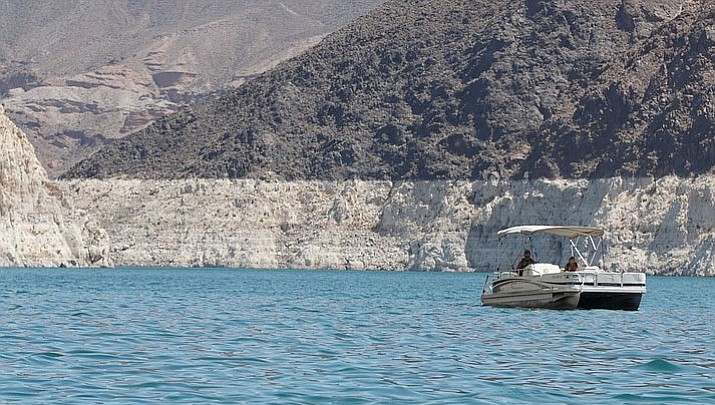 Originally Published: September 29, 2017 6:05 a.m.
The Friday Catchall:
• WATER – Water is the lifeblood of the Southwest. You begin to understand that quickly when you learn about the Central Arizona Project – a concrete ditch that supplies water from Lake Havasu to Phoenix.
It was with interest that I read about an agreement the United States and Mexico unveiled Wednesday to preserve the overtaxed Colorado River. They plan to spend millions of dollars on conservation and environmental projects and draw up plans to deal with shortages amid drought and climate change.
Many details aside, one item that caught my attention was Mexico being allowed to store some of its share of the river water in Lake Mead in the U.S., if it cannot use it immediately, according to the AP. Mexico can withdraw it later, subject to some conditions.
That's great, except for the state of California.
Currently, all water that states along the Colorado River do not use just keeps flowing south, and southern California residents have become dependent on it.
A water pact between two countries means little, until the neighboring country – err, state (California) – starts reducing its demand. To be fair, residents there were subjected this summer to myriad water rules and conservation efforts (even fines for misuse).
Still, it's obvious when one views the water levels of Lake Mead over the past few years that if a drought hits (not that we were ever out of one), with so many thirsty people in southwestern U.S. (including California), there will be no water to give to Mexico.
• DOG DOO-DOO – On Thursday we brought you the neighbor-versus-neighbor trials and tribulations of whose dog deposits what and where. In Chino Valley, only a dog-at-large law exists, and in Prescott everything Fido does off your property could be illegal, while in Prescott Valley it's only about the solid waste.
And, they encourage photos or video. Really?
I am not belittling the victims or wanting to bolster the (alleged) perpetrators. At the same time, what happened to respect? I'd say if you think this is OK, how would you feel if the shoe – or the droppings – were on the other foot?
(Bad mental image there, sorry.)
• TAX CUTS – The internet and newsroom TV were buzzing with tax cut announcements Thursday. President Trump unveiled a $6 trillion tax cut that would reportedly reduce levies on corporations, everyone's tax brackets, and nearly double standard deductions.
Republicans are wanting a win, and Democrats still have targets on wealthy Americans' backs, I mean wallets.
It all sounds interesting, yet a little scary.
In the absence of details on the plan's cost, one back-of-the-envelope estimate by a Washington budget watchdog estimated the tax cuts at perhaps $5.8 trillion over the next 10 years, according to the AP. The Committee for a Responsible Federal Budget, a nonpartisan group that analyzes spending and taxes, said Republicans had only identified about $3.6 trillion in offsetting revenues, meaning the cost to the federal deficit could be in the $2.2 trillion range.
Translation: Some Republicans are shrugging off the threat of adding billions to the federal deficit.
Crystal ball: Failure on taxes, after the collapse of health care repeal(s), could cost the GOP dearly in next year's midterm elections.
• PICK OF THE WEEK – (Proving there's always something good to do in the Prescott area that's cheap or free): You know it's fall when it is time for the Mortimer Farms Pumpkin Fest and Corn Maze, which begins this weekend – noon to 9 p.m. Fridays; 9 a.m. to 9 p.m. Saturdays; and 9 a.m. to 6 p.m. Sundays, at the corner of highways 69 and 169 in Dewey. Enjoy!
Follow Tim Wiederaenders on Twitter @TWieds_editor. Reach him at 928-445-3333, ext. 2032, or twieds@prescottaz.com.