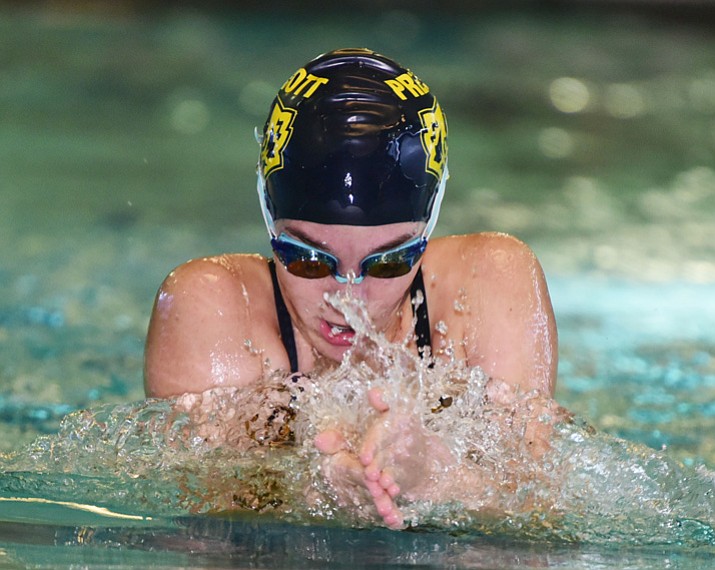 Originally Published: September 28, 2017 10:30 p.m.
Photo Gallery
PHS Swimming 092817
The Prescott swim team celebrated its seniors in front of fans, friends and family at the YMCA, but the Badgers fell just short of victory despite 10 first-place finishes Thursday afternoon.
Harris Temple took first in the 100-yard butterfly with a 54.56 time, Aly Warren was first in the 100 breaststroke with a 1:24.08 mark for Prescott, which continues to rebuild its program at the Division II level.
Temple was also first in the 200 individual medley with a 2:05.42 time.
For the girls, Prescott finished second overall with 107 total points, 15 shy of Arizona College Preparatory's first-place mark of 122 points. Thunderbird wrapped up the top three with 79 total points.
The Badger boys finished third with 79 points, while Thunderbird took first with 130 and Arizona College Prep. with 95 came in second.
Lacey Ingallina took first with a 2:39.31 time in the 200 individual medley, while Paul Kinach took first in the 50 freestyle with a 23.87 time. Kinach also took first in the 100 backstroke with a 1:04.71 time.
In the 400 freestyle relay, Kinach, Temple, Dallin Jex and Tate Bassett finished first overall with a 3:39.20 time.
UP NEXT
Prescott will travel south to Chandler and participate in Saturday Night Fever this weekend. Official start time was not available at press time.
Brian M. Bergner Jr. is associate sports editor and a columnist for The Daily Courier. Follow him on Twitter, Instagram and SoundCloud at @SportsWriter52, or on Facebook at @SportsAboveTheFold. Reach him at bbergner@prescottaz.com or 928-445-3333, ext. 1106.
More like this story