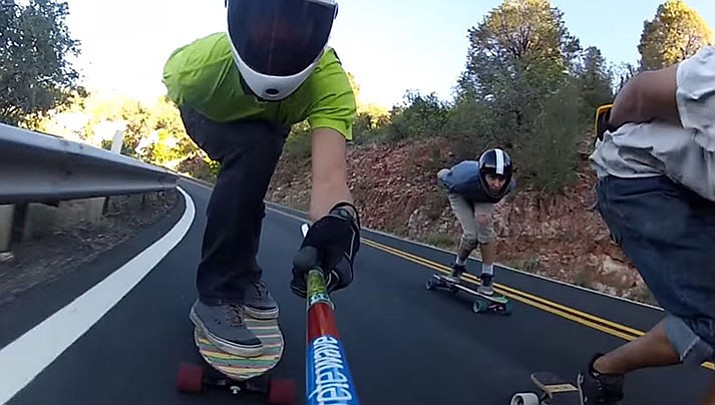 Originally Published: September 24, 2017 6:05 a.m.
It all comes down to life choices. We often hear about stupid things children do — having fun, seeking a thrill, being adventurous, they say.
Still they can be really stupid, having not thought about consequences … the "what now?"
Take for example the kids who used super glue on their lips when I was in high school. They tried to prove a point: how long they could go without talking. They forgot about eating, drinking — not to mention choking — or what it does to the skin. (Not a pretty picture.)
How about the time my brother rode his bicycle down what we called Suicide Hill near our house? The bike's frame broke in two and he bruised his tail bone. (Though, I have to say I've never seen someone fly so high before — or since — in my life!)
So, there's stupid and then there's dangerous.
Now let's examine something I had not heard about until I saw videos of it on YouTube years ago: longboarding. It's basically riding a skateboard down a steep road at excessive speeds.
In the story we published this past week — which our sister newspaper, the Verde Independent, did — we learned that doing this down mountain highways (think: Highway 89A on either side of Mingus Mountain out of Jerome or Oak Creek Canyon near Sedona) is not illegal unless you are in Jerome or Prescott (there it is against the law).
Sadly, the kids don't think about the prospect of a car coming the other way or falling off the board at such a high rate of speed. They might wear helmets, but no other protective equipment other than gloves. (Click here for the story and accompanying videos.)
Use your heads, kids!
I recall doing something similar when I was 16. Training for Junior Nationals bicycle racing (think: Tour de France, but stateside), I was coming down Boulder Canyon into Boulder, Colorado, on my bicycle.
Reaching 50-plus mph on hairpin curves and switchbacks, I was going so fast my sunglasses flew from my head and my eyes teared up so much I could not see well. All I could do was blink and squint again and again to get the wind to blow the moisture from them.
I burned up more than half of my brake pads in the one run, and came close to face-to-grille several times with oncoming cars and trucks. I even passed a few cars going the same direction I was traveling.
Like the longboarders, I received stares of amazement.
And, I lived to talk about it, and said many times to myself and others: "That was scary-stupid. I will never do that again."
Law enforcement officers say the longboarders are no different than someone walking or bicycling: as long as they do not impede traffic, it is legal.
Personally, I think there should be a law against it. Actually, there already is — it is just a matter of enforcing the law. Just watch the videos; they do not always stay on the right side of the road and cross the center line at times. I also cannot fathom how I would drive past someone doing this. (Those things make it illegal, by the way.)
Seeking a thrill? Adventurous? Let's call them adrenaline junkies.
"The experience as a whole is incredibly exhilarating. I love the feeling of shredding down the highway at high speeds," one of them told the Independent.
Yea, until you become a new hood ornament on a truck going the other way.
Staying safe out there is a life choice.
Related Stories
More like this story