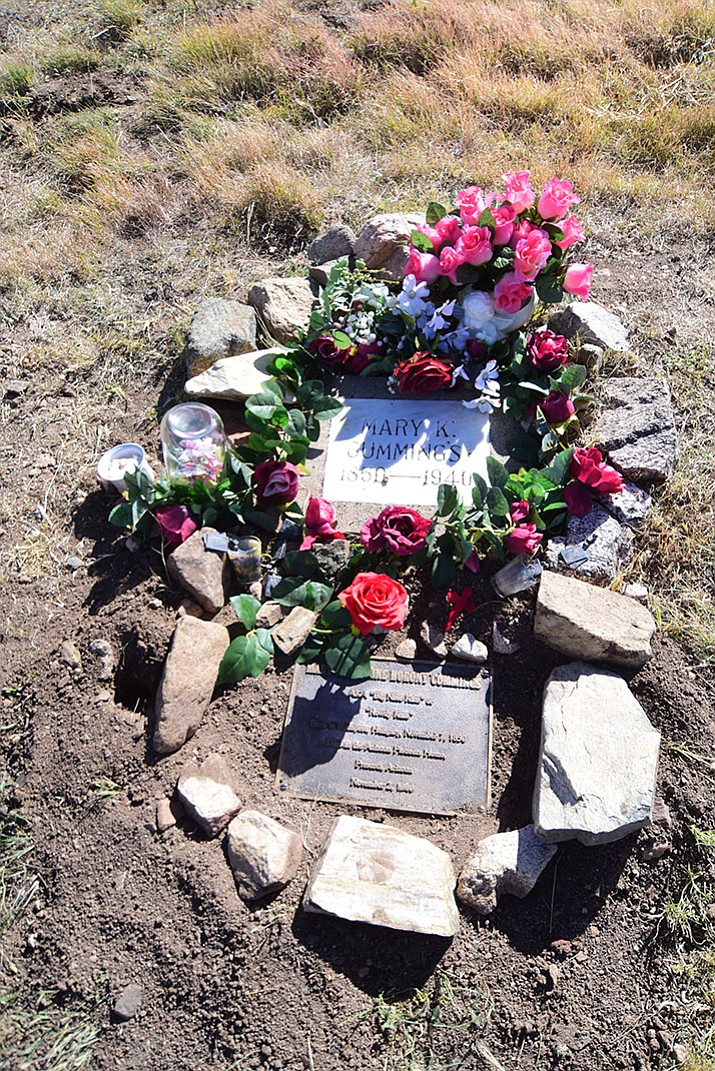 Photo by Les Stukenberg.
Originally Published: September 23, 2017 6:02 a.m.
Updated as of Saturday, September 23, 2017 12:27 PM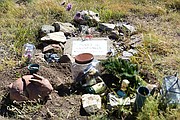 The plaque reported missing earlier this week from the Pioneers' Home grave of Mary Katherine Horony-Cummings, also known as Big Nose Kate, has been found.
Actually, it was never really gone.
Dale Sams, the interim superintendent of the Arizona Pioneers' Home, said the plaque had sunk into the ground, which had been softened and waterlogged by monsoon rains, and then mud flowed in over it.
"The sinkhole made it appear that the plaque had been totally removed," he said.
Kate is best-known as the common-law wife of gunfighter John Henry "Doc" Holliday. She died on Nov. 2, 1940, five days before her 90th birthday and was buried four days later under the name "Mary K. Cummings."
Sams said the plaque was added to the grave marker at the request of a private citizen in 2008.
The plaque's disappearance was reported by John Friedman. He said that when he took some relatives to see it this week, it was gone with only a fresh dirt pile where it had been installed.
When he was told Friday, Sept. 22, Friedman said he was thankful that the plaque had not been stolen.
Only it hadn't been taken. Volunteer caretaker Denise Meyers, who hadn't been to the site since July, did some digging, and there it was.
Meyers, who adopted the grave seven years ago, said, "When I saw what happened, it really disturbed me, so I went out to do whatever I could to clean it up and redecorate.
"I thought, 'Let me look where the hole is, and I'll see if I can put a planter or something there until we get a new plaque made,'" she said. "And I started to dig … and I hit something.
"It was about six inches down," she said.
Meyers said the plaque is "filthy" and will need some cleaning, but it is intact.
She said that, coincidentally, she found the decorations placed there had been damaged, and that there were smashed bottles and cigarette butts scattered about.
"I was over there for three hours," she said, "But there's so much that broken."
Meyers plans to return to the grave and re-decorate, even putting back out a sort of guest book for visitors to sign.
Sams said the fact that the plaque had been found means that, although he appreciates them, the Pioneers' Home would not need to take anyone up on their offers to donate money to replace it.
He added that the Pioneers' Home is "open to others volunteering to care for a particular grave or area, since our staffing is minimal." Contact him at 928-445-2181.