Originally Published: September 23, 2017 5:50 a.m.
Police: Navajo Nation officer drunk, fatally strikes cyclist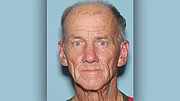 GLENDALE (AP) — Authorities say a Navajo Nation police officer who was in the Phoenix area for training struck and killed a 60-year-old bicyclist shortly after midnight on Friday.
Glendale police say 30-year-old Kevin Hevel was driving drunk when he side-swiped a sports utility vehicle and then struck Peter Rankin, who died on scene. Hevel then kept driving and ran a red light before he struck a fully-marked Glendale police SUV.
The Navajo Nation said in a news release that Hevel has been a police officer there for 10 years in the Window Rock District. The tribe said Hevel was in good standing and was not known to have a drinking problem.
It's unclear whether he was placed on leave. He faces charges of manslaughter, felony endangerment, DUI and failure to stay at the scene.
Arizona among 21 states targeted by Russian hackers
PHOENIX (AP) — Arizona is among 21 states whose elections systems were targeted by hackers.
The federal government notified Secretary of State Michele Reagan on Friday that Russian government was involved in attacks on Arizona's voter registration system.
Spokesman Matt Roberts said Reagan will receive a detailed briefing in early October. He said the state has not found any evidence of stolen or manipulated data.
State officials in the past said a Gila County employee had his username and password captured by a hacker in a phishing attack but there was no evidence the credentials were used to alter the statewide voter registration database, which was taken offline for 10 days in June 2016.
An email obtained by The Associated Press in a public records request said the stolen credentials would only have been able alter Gila County data.
Judge denies bid to dismiss prosecutors in NAU shooting
FLAGSTAFF (AP) — A Coconino County judge rejected a request Friday to dismiss the county attorney's office from prosecuting a 2015 shooting case on the Northern Arizona University campus.
But Judge Dan Slayton appeared hesitant in issuing his decision, saying William Ring's office appeared to have taken missteps and should have set ground rules for how prosecutors would maintain a strict appearance of propriety with a law firm that employed Ring before he was elected county attorney.
Slayton said defense attorneys could file a special action challenging his decision. The judge said he could not find any published opinions with facts similar to the ones raised by Steven Jones' attorneys.
"I have principles that hopefully are a good compass for me to make my decision," Slayton said. "But again, I could be wrong in my decision denying that motion."
Jones is set to be retried next month on murder and aggravated assault charges.
One of his attorneys, Joshua Davidson, didn't immediately respond Friday for comment. Deputy County Attorney Ammon Barker declined comment on the ruling.
Davidson argued the county attorney's office had a conflict in prosecuting Jones because Ring worked for Aspey, Watkins and Diesel before being elected.
Bees attack 20 outside of Tucson
MARANA (AP) — Authorities in Marana say about 20 people were stung by bees that also attacked an 80-year-old man who was stung about 100 times and was hospitalized.
The incident was reported Friday morning. The Northwest Fire District says the man is in stable condition.
Spokesman Capt. Brian Keeley says Marana police were the first to respond and that several officers were stung while helping out the man. Fire crews then arrived and applied foam to knock down the bees, although the bees remained aggressive for almost two hours.
Keeley said that firefighters and workers from Tucson Electric Power were also among those stung.