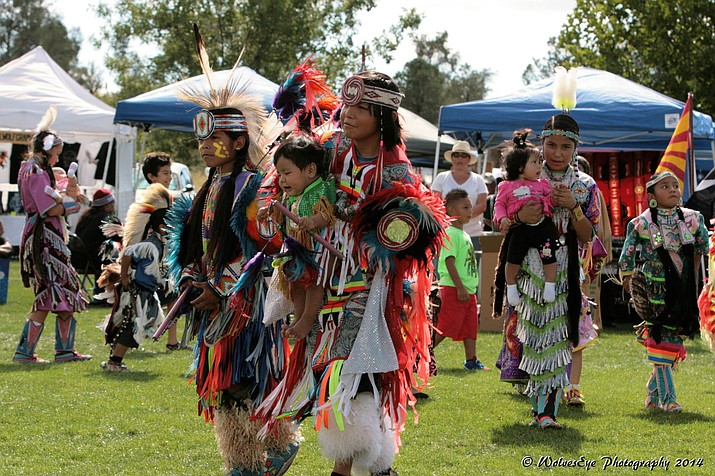 Originally Published: September 21, 2017 9:18 p.m.
Hundreds of dancers from all over North America will converge in Prescott this weekend for the 11th annual Prescott powwow this weekend.
The goal has been to draw in more non-native people to experience the powwow, but there are do's and don'ts for the spectating public, said Chairman Manuel Lucero IV.
"Native American culture is not popular Western culture," Lucero said. "I'd like folks to keep in mind that this is a Native American gathering and not so much a show put on for spectators. There's a lot of ceremony and things that go on."
People coming to powwow should do a bit of background research and always ask questions, he said, noting that usually those involved are pretty friendly about what's going on. There is a section called Powwow 101 that includes powwow etiquette, history and information about the dances at prescottpowwow.org.
The Prescott Powwow is a great learning opportunity for the public as well as for Native American youth, Lucero said, mentioning that the powwow's motto since its inception has been "elders embracing the youth." The desire has been to focus specifically on the young people coming together with the elders, he said.
"If our elders don't teach the young people, then these dances will go away. Culture is really, really important. As far as powwow goes, it's a much more contemporary platform for Native American people to celebrate our Indian-ness," Lucero said, remarking once he got into it, it caused him to be more interested in his own culture, which is the Cherokee Nation. "It's kind of a gateway drug, so to speak. You get pride in yourself as an indigenous person and you start wanting to learn more about your own people, your own language, your own ceremonies, your own traditional dances."
A lot of the dances were given from other tribes and has become a way of sharing culture, he said. As some examples, Lucero said there might be a Navajo who is a traditional dancer, which emanates from the Northern Plains, or a Navajo who is a Southern Straight Dancer, which comes from Oklahoma. They have to be brought into the dance styles and usually adopted by a family, he said.
Lucero said he dances as well and stated that preparation starts with prayer. Every dance, every step of the dance and every beat of the drum is a prayer, he said, commenting he gets up with the sun, lays his outfit down, smudges it with sage and says some prayers asking for protection for his family, that he doesn't get injured and that he remembers everyone in a good way while he's dancing. After that, he puts on his outfit, smudges it again and goes out in the arena to line up for grand entry, which is like a parade of sorts, Lucero said. Participants will line up by their regional dance and it starts with veterans carrying the colors, he said. Veterans come first in powwows because a lot of Native Americans come from warrior societies, Lucero said.
"No matter if you're native or non-native, if you have the intestinal fortitude to put that uniform on, you're considered a warrior," he said. "We always revere our veterans and you'll see that out there."
Behind the veterans are gourd dancers followed by royalty then Head Man, Head Woman, Head Boy and Head Girl, Lucero said. Head Man and Head Woman lead the dances, are expected to know protocol and pass it on to the Head Boy and Head Girl so they grow up knowing the responsibilities, he said.
In addition to the dances, there will be native artists from all over the country selling 100 percent Native American-made or -crafted jewelry and art, Lucero said.
Held Friday through Sunday, Sept. 22-24, at Watson Lake Park, admission is free with a $5 parking fee. For more information and a schedule, visit www.prescottpowwow.org. No drugs, alcohol or pets are permitted except for service dogs.