Originally Published: September 18, 2017 6:01 a.m.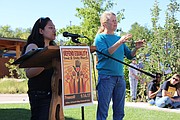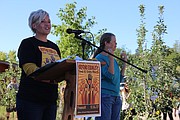 For some within the Prescott community, Saturday, Sept. 16, was a day to celebrate love, unity and diversity.

At least 100 people came out for Prescott's first Love and Unity March.
Holding signs in favor of peace and equality, the crowd gathered at the Crossroads Center on the Prescott College campus to listen to several speakers before marching their way through the heart of Prescott.

Among the speakers were John Morris, Chief Officer of Yavapai County Adult Probation, Jessi Hans, assistant director for Coalition for Compassion and Justice, and Karina Ruiz, a 'Dreamer' and president of the Arizona DREAM act Coalition.
"We are gathered to declare a challenge," Morris said. "That today in Prescott, Arizona, we as citizens of Prescott will truly live up to its name as Everybody's Hometown."
Hans originally came up with the idea for the march. Leading up to it, she was often asked why she felt such a march was necessary.
"I have to say I can't identify one moment, but many," Hans said. "The division in this country has become more and more clear as recent events have unraveled."
One that has stirred much emotion on all sides of the spectrum was President Trump's decision to end the Deferred Action for Childhood Arrivals program (DACA).
To speak about this, Ruiz traveled up from her home in the Phoenix area.
She is one of the nearly 790,000 young unauthorized immigrants who have received work permits and deportation relief through the federal government program.
When she was 15, her parents came to the U.S. in search of more opportunity and a better quality of life. Ruiz followed them a year later.
"When I came here, I didn't know we were breaking the law," she said. "My parents actually didn't know that we were going to come through the means that we did. All that was pictured to them was the American dream. That success that people have here because there are more opportunities."
Now, 18 years later, Ruiz, 32, has three children and a bachelor's degree in biochemistry from Arizona State University.
"I see America as my home," Ruiz said.
With her ability to stay in the U.S. now threatened, she has joined a movement of DACA recipients and their supporters to have permanent legislation, such as the Dream act, passed that would allow them to continue living the lives they have become accustomed to.
"We want a path to citizenship," Ruiz said.
If such an act does not pass within the six-month window the executive branch has given Congress to do so, she does not believe it will be the end of the fight.
"I think our movement is just going to get stronger, because people are going to see that they aren't going to work or school," Ruiz said. "If you're not able to go to school or work, the only other thing you can do is join the movement. There will be more urgency and opportunity for us to come together with other communities and put more pressure. We have come out and started to have a normal life – or close to a normal life – and once you are given those opportunities, it's very hard to let go of them. The only thing you can do is fight for it."