Originally Published: September 17, 2017 6:03 a.m.
NOTE – This Amazing Place is category 2; you will need to email the Courier for its location. I don't have enough space in this article to include a map or directions.

The log cabin is the only one I can think of that is still standing in the Prescott National Forest, other than Palace Station. Most other log cabins burned down long ago, leaving only the stone chimney and fireplace as an historic reminder of how some miners lived many decades ago. Other indications of a settlement are fruit trees — usually apple trees. Woodpeckers love to drill into these trees.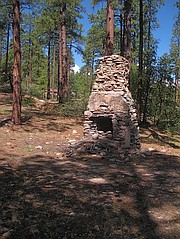 This log cabin on Spruce Mountain is in very good condition and is a short distance off one of the hiking trails. It was probably built in the 1930s or 1940s, but it's hard to find accurate information.
The corrugated metal roof is rusty, but otherwise in good condition. You can see the mud chinking between the logs to seal the cabin from the cold wind. I'm not sure what the purpose was for the wood lattice at the end that faces you — let me know if you think you can explain this oddity. Feel free to walk inside through its door at the far end — still attached with the original hinges. The location of where the stove would have sat under the metal chimney is obvious. Please treat this historic building with respect.
To reach this cabin does require a hike, but not a long one. While I'm mentioning hiking, I should also mention the annual Hiking Spree organized each autumn by the Highland Center for Natural History on Walker Road. This event kicked off a week ago and continues into December. You can still sign up for the 12 hikes that will take you to some interesting places, as well as help you keep fit. Some of the Spree hikes are easy, some moderate and some strenuous — aiming to please everyone. In the spirit of openness, I should tell you that I produce all the maps for the Spree, as well as select the trails.
For directions to this delightful cabin, send me an email to twieds@prescottaz.com, with "Log Cabin" in the subject line. I will also give you information on where other log cabins used to be, as indicated by their stone chimneys or their collapsed logs.
Regarding Spruce Mountain, I should tell you that there are many ponderosa pines, fir trees and junipers growing there, but no spruce. Blue spruce trees are found in the White Mountains. The white fir is quite common on Spruce Mountain.
They are similar to spruce, and can have a bluish tinge — hence the confusion.
Nigel Reynolds was born in England and has lived in Arizona for nearly 30 years and Prescott for 20 years. "Exploring is in my blood," he says.