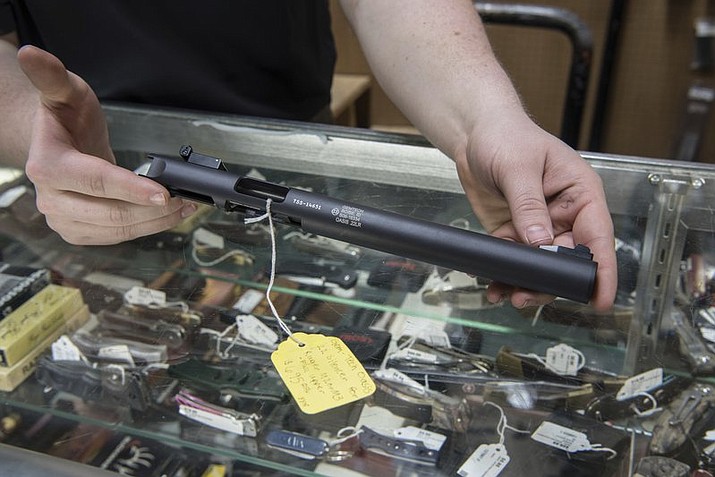 Originally Published: September 14, 2017 6:07 a.m.
(Editor's Note: See our Sept. 16 follow-up editorial on this topic that includes reader-submitted insights we overlooked in this original post, such as the benefits of suppressing sound to protect hearing.)
The Sportsmen's Heritage and Recreational Enhancement (SHARE) Act has many common-sense proposals to ease restrictions on hunting on federal lands, including better access to shooting ranges and allowing for transportation of guns and bows across state lines.
But a couple of the proposals in the bill currently being considered by Congress make no sense.
One is allowing silencers while hunting. Another is allowing armor-piercing bullets.
Any hunter who needs to use a silencer to hunt should be ashamed, because it means that they are such a poor shot that they can't risk alerting the animal they hunt by their many missed attempts. Instead of silencers, spend time practicing to kill with the first shot.
Allowing silencers is similar to "hunters" who put out bait for animals – something that is illegal in Arizona in any form. It provides an advantage.
And if you are interested in a trophy, what will an armor-piercing bullet do to your prey? Depending on where it hits, taxidermists will make a fortune having to rebuild the animal after that much destruction – or, like shooting with a full-metal jacket round, it may just go straight through.
Regardless, hunting is noble act, one that has been part of humanity from the start. It is how we fed ourselves and continue to feed ourselves. We take the life of the animal to provide subsistence to ourselves and our families.
We continue to support all common-sense hunting laws.
However, people who hunt only for trophies, allowing the meat to rot after they sat in a chair at some fenced-in farm and had "guides" bring them their kill practically on a leash don't deserve to be called hunters.
And, with all due respect to guides, people who "hunt" entirely dependent on them — hiring people to scout for a great trophy, learning its patterns and location, and then leading them to the perfect spot where they've done all the work — don't deserve the title either.
If you're going to hunt, you do the hunting. You go out into the wilderness and track your kill. You learn the perfect spot to set up the shot, all the while taking great care to not spook the animal. And when you do kill it, you give thanks and utilize all the animal has to offer, letting as little as possible go to waste.
That is hunting, and there is no room for silencers or armor-piercing bullets in what real hunters do.
There is a lot in the SHARE Act that we support, but pushing through silencers and armor-piercing bullets where they are not needed only gives the gun rights lobby a bad name.
Those portions of the act should be removed.