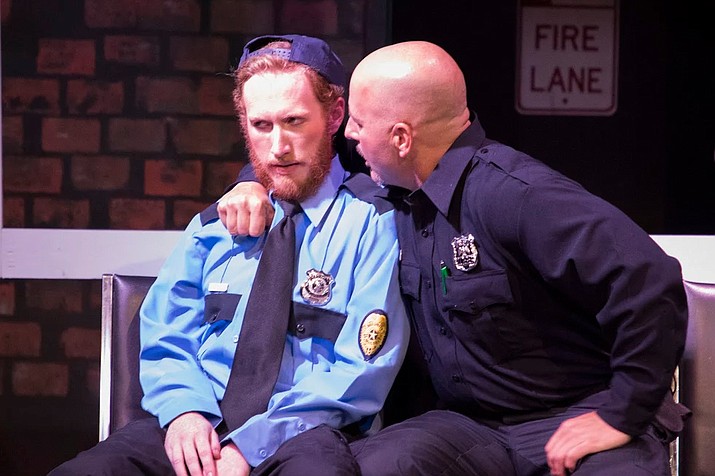 Originally Published: September 13, 2017 6 a.m.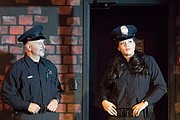 They say bartenders and hairdressers ... and in this case an ill-fated security guard? ... had best be good listeners, or perhaps look for another line of work. And the information gleaned must, of course, be taken to the grave. But what if keeping the lid on a confidentially shared earth-shattering tidbit were to compress the recipient's moral compass to the point of implosion? Heck, the poor soul is just trying to make a living….
Author Kenneth Lonergan's dramatic play "Lobby Hero" presents just such a dilemma.
The always terrific Will Larson plays 27-year-old graveyard shift security guard Jeff, a late bloomer who has grown tired of mooching off his older brother. He is finally ready to take care of himself by holding down a job and getting an apartment of his own. A decent enough sort at heart, Jeff is nevertheless rough around the edges.
Jeff's authoritarian boss, William (John Rothstein Christophe-Jenkins), acts as a mentor of sorts, guiding Jeff toward moral clarity via the pair's late-night "philosophical" interchanges that take place in the New York apartment building lobby where Jeff works.
William is simultaneously hard-nosed and forgiving, at once punitive and rather kind. Christophe-Jenkins makes easy work of managing his character's considerable nuances.
On this particular night a distraught William takes Jeff into his confidence, explaining his palpable anguish over his younger brother having committed a serious crime. But things become untenable for poor Jeff when William later reveals his tortured decision to give his brother a false alibi. William rationalizes the choice as an offset to the perceived injustice of his brother having been assigned an incompetent court-appointed attorney.
Act 1, Scene 2 introduces veteran NYPD officer Bill (Michael Holevar) and his rookie partner Dawn (Alexes Niekamp). Their relationship bears a number of complexities, including one or two deceptions of Bill's, which quickly come to light thanks to an observant Jeff. But a rightly infuriated Dawn has limited leverage to deal with the depraved Bill given that she has just committed a serious error on the job.
Holevar excels in any role, and his have recently run the gamut. His sharply executed Bill turns the play's tension up a few notches using a level of intimidation that renders it even harder for Dawn and Jeff to do the right thing.
Niekamp, who was also seen in several recent PCA productions, thoroughly hits her stride in this role. Her Dawn is a real New York lady cop, with the accent, mannerisms, vernacular and attitude to fully pull off the role.
Dawn ultimately exhibits strength we knew she possessed, whereas Jeff's courage is hoped for but unexpected.
"Lobby Hero" drags a bit in places, undoubtedly due to playwright Lonergan simply having written the play too long. But director Paul Epoch capitalizes on every moment. His fabulous cast makes the most of every character.
Walton Mendelson's saxophone riffs create an inventive "big city street" ambience between acts and scenes.
In spite of its 2 1/2-hour length, audiences will find the morally compelling, character-driven "Lobby Hero" to be an evening very well spent.
"Lobby Hero" will appear Sept. 7-24 in Prescott Center for the Arts' Stage Too theater, in the alley off Cortez St. between Willis and Sheldon (behind Peregrine Book Co.) in downtown Prescott. Evening performances are at 7:30 p.m. on Thursdays, Fridays and Saturdays, with matinee performances at 2 pm on Sundays. Tickets for all performances are $15. For more information, visit the Prescott Center for the Arts website at pca-az.net or call 928-445-3286.