Originally Published: September 13, 2017 6:05 a.m.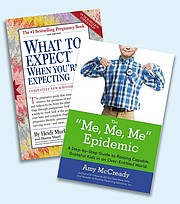 There is no manual for raising children. An all-knowing super-parent doesn't exist, and there's no such thing as a trip to parent school where a degree is earned on guiding young minds.
Books are helpful, despite your own parents' attempt to impose their will. "What to Expect When Expecting," was extremely helpful for me as a new father. And there were other books, web searches and articles that were valuable too.
Talking with other parents that have "been there, done that" is also a huge help. Let them guide you out of the craziness.
A new book has come to my attention recently called, "The 'Me, Me, Me' Epidemic." It's a step-by-step guide to raising capable, grateful kids in an over-entitled world.
No, really. That's exactly what it says on the cover.
I have yet to read this book but from what I gather the author, Amy McCready, sets out to cure kids of the entitlement epidemic so they develop happier, more productive attitudes that will carry them into a successful adulthood.
I'm actually looking forward to reading this, because isn't the subject matter the goal of every parent for their children — to raise an excellent contributing member of society that makes sure to visit for the holidays after they're all grown up?
I think so.
In an article written by McCready published in 2016 by Today.com she highlights a few parts of her book, including one part that interested me called, "Handing over the reins."
She discusses that every time we as parents rescue our kids from their mistakes, intervene on their behalf, or smooth the way so things are easier for them, we're actually doing them a disservice.
I believe this to be true.
We "rob them" she says, of a learning opportunity, a chance to be responsible and figure it out for themselves.
Like homework.
We recently discovered that despite the homework we KNOW our son does on our kitchen table at night, courtesy of a big help from his mother (my wife), he failed to turn it in to the teacher.
Really dude?
And not just once it seems. Basically, much of the first six weeks of school our son's turn-your-homework-in-here bin has gone, well, homework-less.
This was a laughable moment, because for kindergarteners they don't grade homework anyway. It's more about teaching responsibility and showing commitment.
McCready's point in this situation, I think, is not for us as parents to offer excuses, blame the teacher, or start turning in his homework for him.
No way!
A teaching moment has arrived. We'll show him what can happen when he's not responsible for his work and allow him to clean up his own mess.
In the end, I believe that's what our job is as parents. We're here to open doors, but they have to be the ones who walk through them.
Brian M. Bergner Jr. is associate sports editor and a columnist for The Daily Courier. Follow him on Twitter, Instagram and SoundCloud at @SportsWriter52, or on Facebook at @SportsAboveTheFold. Reach him at bbergner@prescottaz.com or 928-445-3333, ext. 1106.