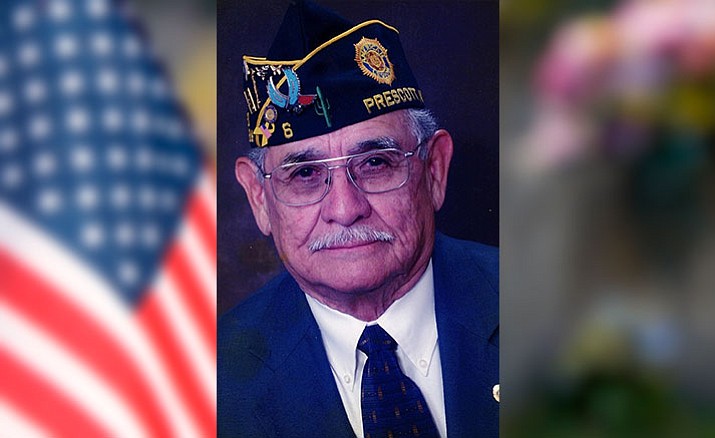 Originally Published: September 12, 2017 6 a.m.
Ildefonso (Al) Tercero, 87, of Chandler, Arizona, passed away Aug. 29, 2017, at his home. He was born Jan. 23, 1930, to Navor and Maria (Martinez) Tercero, in Fort David, Texas.

He graduated in 1949 in Texas then enlisted in the US Air Force, where he spent 21 years as an Air Traffic Controller. He retired in 1970 and moved to Prescott, Arizona. He was active in the American Legion Post 6 for 44 years. In 1995, he founded the American Legion Post 6 Honor guard and remained their captain until his retirement in 2005. He held many offices in the American Legion throughout the years, including Commander of Prescott Post for six years, State commander in 1986-87, and State Adjuctant 1990-94, receiving National award for service to veterans in 1994. He was active in Yavapai County Special Olympics, D.A.R.E, Citizen Historical Cemetery Association, Sharlot Hall Museum.

In 2005 he was inducted into Arizona Veterans Hall of Fame. In 2016 he was honored for over 8,000 volunteer hours from the Northern Arizona Veteran's Administration.


He is preceded in death by his parents; first wife, Frances; and six siblings. He is survived by his loving wife of 17 years Donna; children Rose Freyholtz, Christine (Joe) Deware, and Al (Annmarie) Tercero Jr., David Sandoval; brother Lolo Tercero; sisters Fabiola (Pete) Garcia and Teresa (Bob) Deason; 14 grandchildren; 14 great-grandchildren; one great-great-grandchild; and many loving nieces and nephews.

Memorial services will be held Friday, Sept. 15, 2017, at 10 a.m., at Sacred Heart Church, 150 Fleury St. in Prescott, with final commitment following at noon at Prescott National Cemetery.

In lieu of flowers, memorials may be made to American Legion Post 6 Honor Guard in memory of Al Tercero.

Hampton Funeral Home assisted with the arrangements, www.hamptonfuneralhome.com.

Information provided by survivors.