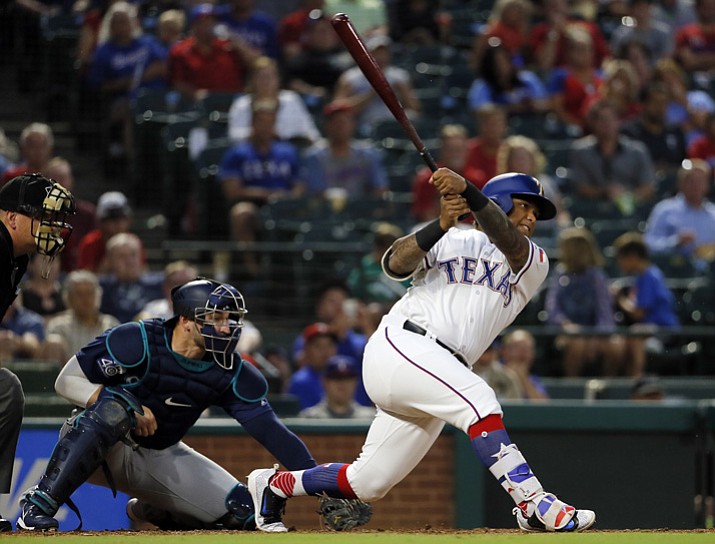 Originally Published: September 12, 2017 11:45 p.m.
Updated as of Wednesday, September 13, 2017 10:35 AM
ARLINGTON, Texas — Willie Calhoun was planning to drive from Arizona to California on Tuesday since his Triple-A season was over. Instead, the prized prospect the Rangers got in the Yu Darvish trade flew to Texas for his major league debut.
Then he got an RBI single in his first at-bat, and finished 1-for-4 in the Rangers' 10-3 loss to the Seattle Mariners.
"It's been pretty crazy," said Calhoun, a former Yavapai College baseball standout.
For the Roughriders, Calhoun hit .432 with 31 home runs and 85 RBIs in 2015, leading Yavapai to a 45-18 record.
The Rangers purchased Calhoun's contract from Triple-A Round Rock, and he batted seventh and played left field. He pulled a single through the right side of the infield in the second inning.
Calhoun was one of three minor leaguers the Rangers got from the Los Angeles Dodgers in the July 31 trade that sent Darvish to the NL's top team.
"I try not to think about it as much. I don't put any extra pressure on myself at all," the 22-year-old Calhoun said about being acquired for the former Rangers ace. "I don't really think about that when I'm on the field. I just go out there and play my game and have fun."
The first action for Calhoun came in the top of the second when Mike Zunino had an RBI single to left. The 5-foot-8 rookie cleanly fielded the ball but his throw was just a bit off line and Nelson Cruz slid in just ahead of the tag.
Calhoun ran a long way to make a sliding catch along the left-field line to take a potential hit away from Kyle Seager in the fifth. Three innings later, Seager hit another ball to left and Calhoun made another sliding attempt. Umpires ruled he trapped the ball, but he still got a forceout at second base after another runner retreated to first thinking the catch had been made.
Known more for his hitting, Calhoun played mostly left field for Round Rock after playing second base in the Dodgers organization. He hit .300 with 31 home runs and 93 RBIs in 128 Triple-A games.
Manager Jeff Banister said Calhoun would be a regular player for the wild card-hopeful Rangers.
"This is a guy, young player, that has shown promise, and we have a need," Banister said. "Our people feel like this guy has an opportunity to hit at this level."