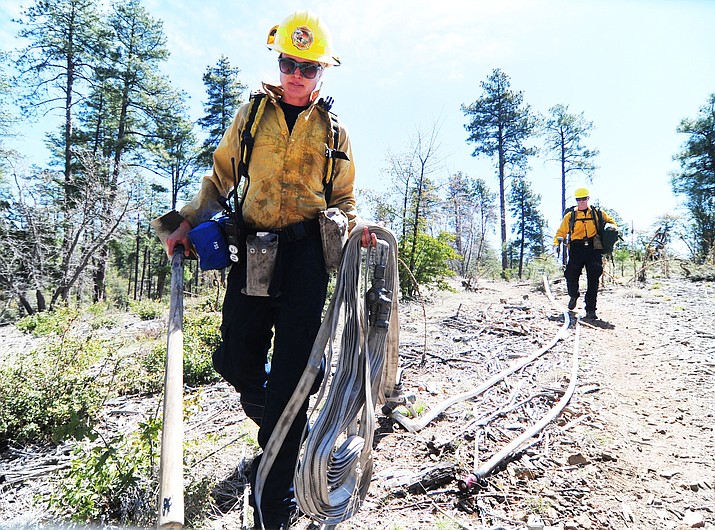 Photo by Les Stukenberg.
Originally Published: September 11, 2017 6:01 a.m.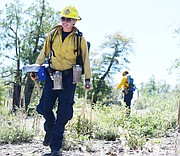 Women have been among the ranks of firefighters since the late 1800s, but now, over 130 years later, they still make up a tiny minority of the fire service, with just three in the Quad Cities.
The first woman to work as a paid firefighter — not including wildland crews — was Judith Livers, who was hired by the Arlington County, Virginia, fire department in 1974.
With both the Phoenix and Mesa fire departments headed up by female chiefs, it might seem that woman have made significant inroads in the firefighting business — and they have, as far as treatment by their colleagues is concerned.
"When I got on (with Phoenix Fire), it was 2001 and it was much different than it is now," Captain Reda Bigler said. "And I think now those ladies that are trying to be hired into the fire service have it better."
But of the 1,900 or so Phoenix firefighters, just 4 percent are women.
Prescott Fire Chief Dennis Light said that with two female firefighters, Jamie Wallace and Samantha Vargas, his department is at 3.34 percent.
"It's been my experience in Arizona, that's a customary number," Light said, adding he's "worked hard" to close the gender gap.
Light said that he's specifically sent one of the women to hiring events and job fairs to remind people that women are welcome to apply.
"A lot of times, that will attract other females to express an interest in the profession," Light said. "Part of it is just communicating that there is a need."
Can they do it?
Yes, they can
Years ago, male firefighters may have had concerns about women working alongside them in dangerous situations, but that doesn't appear to be a major concern any longer.
Women must pass the exact same physical fitness testing as men.
"If you're physically fit and you're mentally tough, you're right there with (the men), Vargas said.
Vargas, 26, is in her first year on the job, and she's always wanted to be a firefighter, and she's felt welcome by the male crew members.
Kayleen Weiland, 23, is a firefighter for Central Arizona Fire and Medical Authority.

She said her size had a few co-workers concerned at first.

"I know some of them have wondered what I'm capable of, because I'm not the biggest thing you've ever seen.
"It's not all about brute strength," Weiland said. "You sometimes need those smaller people who can get into smaller places, or have other skills."
Still, she added, "There's definitely a huge physical component that I do need to have."
Bigler, who is vice-president of the Valley Women's Firefighters Society, agrees.
"I look at the variety of calls we run as firefighters, from mountain rescues, fighting fires, confined spaces, or just helping someone at a medical call. Being 5-foot-7, I make a great, what I call an attic rat," Bigler said. "I can climb a ladder and I can get up in between the trusses better than someone on my crew who is over six feet tall."
Where are the women?
Central Arizona Fire Assistant Chief Dave Tharp said, "From our standpoint, what we look at is, are you capable, are you willing to learn the skills?
"We would love to have a better representation of, obviously, having every diversity of the community we serve," Tharp said. "In the last 10 years, we have actually made some efforts to go out and do some active recruiting for female firefighters; we just haven't had a lot of interest … for whatever reason."
Tharp pointed out that a woman formerly in the department had formed a group called Women in Fire Service, to try to recruit more women. But although they had three women as reserve firefighters at the time, "they could never get the interest.
"I don't think it's for lack of trying," Tharp said.