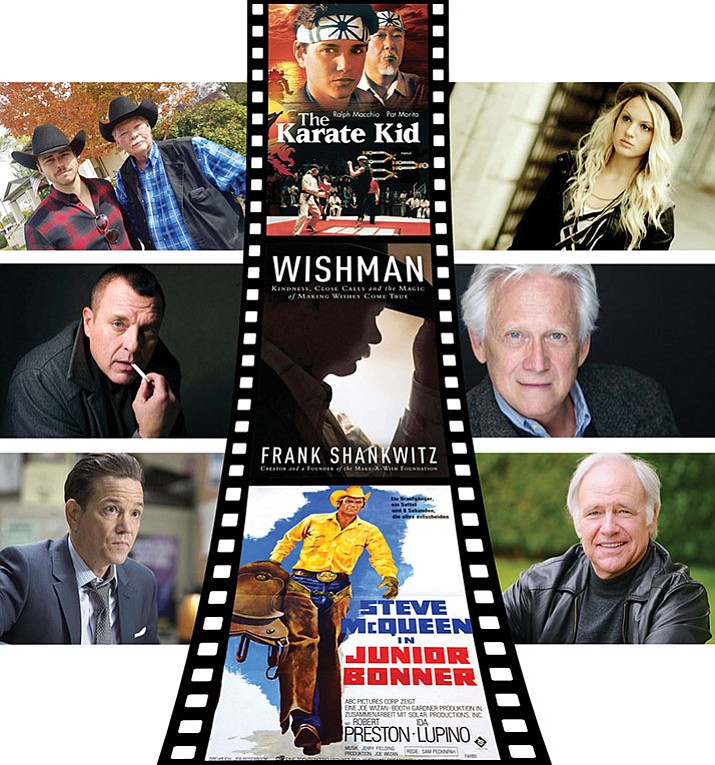 Originally Published: September 10, 2017 6:02 a.m.
Photo Gallery
Wish Man Movie Production In Prescott 2017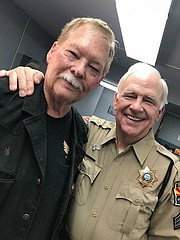 The Wish Man movie, adapted from Frank Shankwitz's book Wishman, began filming in Prescott the week of Sept. 11, 2017. Shankwitz, a resident of Prescott, Arizona, is the founder of the Make-A-Wish Foundation.
For the first time in more than a decade, the cameras and lights of feature film-making are set to return to the streets of Prescott.
On Monday, Sept. 11, crews of Los Angeles-based 333 Films are scheduled to begin filming "Wish Man," a feature film based on a book by Prescott-area resident Frank Shankwitz about the creation of the Make-A-Wish Foundation.
Filming is expected to go on for more than a month, and to include at least 10 different locations within the City of Prescott, said Wendy Bridges, economic development coordinator and film commissioner for the city.
Filmmakers have requested the required permits and have submitted traffic plans, Bridges said, and city staffers currently are reviewing the requests.
"Wish Man" will be the first feature film to shoot in the city in more than 10 years, she said.
"That last one was 'Jolene' in 2006," Bridges said, referring to a film adaptation of an E.L. Doctorow story, which starred Jessica Chastain and Dermot Mulroney. That production shot for about a week on the courthouse plaza, Llama Street, Mount Vernon Avenue, and the Arizona Pioneers' Home.
'A six-year dearth'
The filming hiatus was a switch for Prescott, which has a long history of moviemaking. Bridges shared a list, compiled by Sharlot Hall Museum, which includes more than 200 movies that used Prescott as a location, dating back to 1912 and continuing through the 2000s.
Among the most well-known: 3:10 to Yuma (1957); Billy Jack (1972); Junior Bonner (1972); Harry and Tonto (1974); Karate Kid (1984); Midnight Run (1988); Universal Soldier (1992); The Getaway (1994); and Transamerica (2004).
The recent filming absence can be traced, in part, to the State of Arizona's 2010 decision to do away with its film-promotion office.
"Arizona did not have a film office for six years," Matthew Earl Jones, director of the Arizona Office of Film and Digital Media, said this past week, noting that the office was re-established in September 2016, and he came on board in December.
With the recession-era decision to eliminate the office, Earl Jones said, "We have had a six-year dearth of movies."
Bridges said the city has continued to promote the area in the meantime. "We have made it work," she said, pointing out that the Prescott area is still a popular spot for shooting TV commercials and advertising photos.
Earl Jones said he is working to ramp up Arizona's movie presence on a number of fronts, including attendance at movie-industry events.
"One of the things film commissions do is attend trade shows," he said. "That is where a lot of people go to look for what the states have to offer."
In addition, he said, the re-established office now has an active website and social-media campaign.
While Arizona has continued to generate moviemaking interest because of its history and scenery, Earl Jones said, "For the last six years, if somebody were to call, there was literally no one to take those calls."
Other states have been able to capitalize on Arizona's lack of a film office, as well as the elimination of tax incentives, Earl Jones said.
For instance, he pointed to "Only the Brave," the soon-to-be-released movie chronicling the 2013 Granite Mountain Hotshot tragedy that took the lives of 19 of Prescott's Hotshots.
That movie, which has announced an Oct. 20 release date, filmed largely in New Mexico, although Bridges said the crew spent about a week in the Prescott area filming establishing shots.
Still, Earl Jones says of the loss of the Hotshots story to New Mexico: "That one hurt particularly, because it was a story of Arizona heroes."
While Arizona has not re-established its tax incentives for moviemaking, Earl Jones said his office is working on other enticements, including private-sector discounts on expenses such as hotel stays.
"We are reaching out to the industry asking them to offer discounts," Earl Jones said, noting that the program would give moviemakers savings up front, rather than requiring waits of up to two years for tax rebates.
'Wish Man' opted for Prescott
Shankwitz, who lives in the Williamson Valley area, said it was important to him that the movie filmed in Prescott.
Noting that he has been working with the movie producer for the past two years or so, Shankwitz said, "I insisted on script approval." And one of his major points was that filming should take place in Prescott. "I kept lobbying and lobbying," he said.
Through his many contacts in the community, Shankwitz said he was able to find filming locations.
The old county building on Marina Street will serve as a center for the filming and sound stage, Shankwitz said, and area roads and ranches will also be used.
The movie will be a period piece, taking place from about 1950 to 1980, and will tell the story of Shankwitz's life and the founding of the Make-A-Wish Foundation. Among the featured actors will be: Tom Sizemore, Robert Pine, Bruce Davison, and Pat O'Brien.
Andrew Steel, an Australian actor slated to play Shankwitz, has prepared by getting motorcycle and weapons training. "For the past year, year and a half, I've been working with him," said Shankwitz, a former motorcycle policeman. "He's come to Prescott four times."
Shankwitz said he initially was approached about a movie on his book, "Wishman" after a speaking engagement in San Diego. Of the prospect of having his story come to life in a movie, he said, "I'm real excited."