Originally Published: September 10, 2017 5:55 a.m.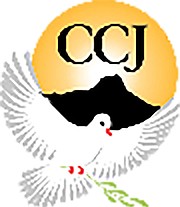 Coalition for Compassion and Justice Assistant Director Jessi Hans is urging all those who celebrate love, unity and diversity in this city and elsewhere to gather for Prescott's first "Love and Unity March."
On Sept. 16, CCJ will sponsor what Hans hopes will be an affirmation for some, and an awakening for others, of the need to stand together as one in the need to embrace people of all kinds amid a national climate of divisiveness that has pitted people against one another rather than seeking common ground.
At 9 a.m. on the campus of Prescott College at the Crossroads Center, the Love and Unity March will kick off with speakers promoting the need for diversity and inclusivity in the community. One of the speakers will be Adult Probation Director John Morris as well as Hans with music to be
performed by Meg Bohrman. Several local organizations, including Prescott College, The Launch Pad Teen Center, several local Unitarian and Christian churches, and the LBGBT community, are working alongside CCJ to celebrate all brands of equality in a community that Hans believes celebrates those principles and needs ways to spread the word.
After the opening speeches, attenders will peacefully march in a walking loop around the college, down Gurley Street, around the courthouse plaza and back at the college. At 11 a.m., Hans said there will be an organizing event for those interested in furthering the mission of promoting equality in the Prescott area.
"What I want to promote is a moment in time when we can come together as a larger collective and celebrate accomplishments, and gather to organize further accomplishments … of those groups of people pushing for equality, diversity and inclusiveness," Hans said.
It was with a sad heart that Hans and others have witnessed this nation becoming more
divided, and people spewing messages of hate such as what occurred in Charlottesville, Va. as well as efforts to repeal immigration policy, in particular the Deferred Action for Childhood Arrivals (DACA) Act. DACA protects certain undocumented immigrants who arrived in the United States as minors from deportation and allows them to be educated and work in this country.
Though the protests in Charlottesville seem to be a symptom of a larger climate of discontent, Hans said she saw it as a "tipping point" for action.
"At that point, in my heart, I realized I couldn't sit and do nothing," Hans said. "As adults in this community, we need to tech our kids that division is no way to gain any kind of ground. We have to have common ground to have unity to make any kind of positive change."
Launch Pad Teen Center Executive Director Courtney Osterfelt concurs.
She said she sees the march as a community wide version of what the center embodies on an everyday basis for every teen in the greater community.
"The Launch Pad is intended to be a place where all teens feel love and respect. So this (march) reflects what we try and do here," she said.
This march is intended to be a "starting point for a bigger picture of unity," Hans said.
"I hope it can create a network of people who want to help see this as something we can work on all the time," she said. "Not just one march, not just one group. Everybody in the community can do something."
More like this story