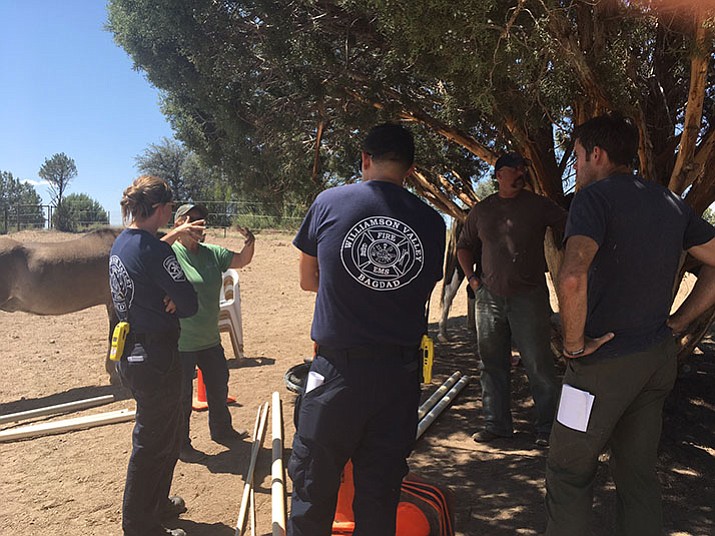 Originally Published: September 10, 2017 5:59 a.m.
On a hot and dusty afternoon, seven members of the Williamson Valley Bagdad Fire District found themselves in an arena in Williamson Valley surrounded by gentle giants who would teach them about teamwork, inner strength, and leadership.
Led by Heroes & Horses' equine-assisted facilitators, Ann Balowski and Andrea Walker, the team learned about the members of the herd, including details on each horse's personal story, and how they function as a whole.
After becoming comfortable with the horses themselves, the team was challenged by Balowski and Walker to complete a task that required them to function not only as a team, but as a single body, literally. During the exercise, one person became the "eyes" of the team, who relayed information to the "brain" of the team, who then directed each "limb" of the body to move in a specific way that would enable them to gently guide a horse to a new area of the arena, then place a "rider" (a stuffed animal) on its back.
Although the horses are gentle, the task took some work to successfully complete – not only because some members of the team had never spent time with horses, but because the horse simply wanted to stay with her herd.
"Although the concept of the task was simple, relaying information in a way that everyone, including people who'd never worked with horses, could understand wasn't quite as easy. In the end everything worked out, but getting to that point took a little more work than I thought it would," said Engineer George Moyers (who also acted as the "brain" of the group).
After pairing the horse with its "rider" (a stuffed animal), the team regrouped beneath the shade of a juniper to talk about what they learned, both about themselves personally, and about working in a team dynamic.
"Although it sounds a bit cliché, we really are a tightly knit family – and today's exercise showed us that. However, what Heroes & Horses also showed us is that it's good to get out of our element and learn to communicate in different ways and work on accomplishing tasks that have no bearing on our jobs. It helps us see each other in a different light, discover different strengths, and see how people learn and comprehend information differently, said Captain Brett Smith.
Heroes & Horses works primarily with first responders, US veterans, and those in recovery however all are welcome to experience the work that Heroes & Horses does. For information on Heroes & Horses, including the organization's services for groups and individuals, visit http://heroes.horse/.
For additional information regarding the WVBFD, including our upcoming community events, classes and training opportunities, visit www.wvfd.net.
Information & photo provided by Williamson Valley Bagdad Fire.