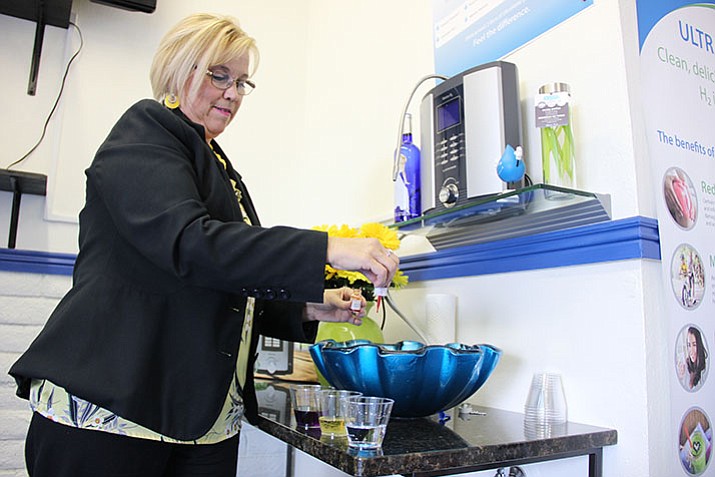 Photo by Max Efrein.

Originally Published: September 10, 2017 6:02 a.m.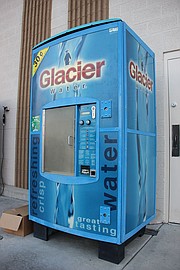 Consumers are thirsty for water.
That's how a Beverage Trends Report released this year by Google's online publication, Think with Google, puts it.
Tapping into its vast data collection pool, the company found that consumers in the U.S. are increasingly interested in the water they drink and the various means of acquiring it.
One of the primary interests shown by the search results is where to buy water in bulk.
Similarly, the hunt for premium water is at an all-time high, with many of the top trending water searches being related to enhancing water by boosting alkalinity, adding carbonation or using premium water bottles.
"We see growing interest in safe, clean and accessible water options," the report states.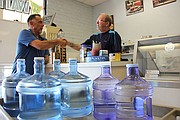 These trends have led to the proliferation of water bars and water quality awareness campaigns.
Locally, water stores — businesses that specialize in selling purified water by the gallon — are nothing new.
For instance, 3D's Water Wheel in Prescott Valley has maintained a presence for the past 28 years. And before it closed in 2010, Jacob's Well was the go-to water store in Prescott for about 16 years.
However, the number of self-service water refill stations has increased. It's not unusual to now find them in grocery stores or at stand-alone locations.
The Natural Grocers in Prescott is one such store. The station inside its store offers ultra-purified water for 25 cents a gallon.
When asked, management at the store said the station serves more as a customer convenience/attraction than a moneymaker.
"There's a demand for it," said Assistant Store Manager Jason Cahill. "There's people who come in just for that, and then there are other people who come in to buy 10 to 15 gallons at a time and then they'll go through and buy things in the store."
Is it pure?
What consumers are looking for from these water purification systems has shifted in recent years as well.
Just about all of the water stores and refill stations found in the Prescott area use a multi-step purification system that concludes with reverse osmosis. This essentially removes every contaminant imaginable, leaving behind just pure water.
Some criticize this method of water purification because it not only removes contaminants, but also essential minerals, such as calcium, magnesium and iron, from the water.
"It's dead water," said Vickie Johnston, who is on the verge of opening a water store of her own in Prescott Valley called Ultra Water Bar Health Store.
Her primary goal is to educate the public about water contaminants and the benefits of drinking alkaline water — her store's primary product.
"Education is the key," she said. "When you have information you can make an informed decision instead of guessing."
Once her store opens in late this month, she'll be selling alkaline water by the gallon, as well as the machines and filters that make it.
Simply put, alkaline water is water that's less acidic than regular tap water. This is based on the PH (potential of hydrogen) scale. It just so happens to be the No. 1 water-related search term in the United States on Google over the last two years, according to the aforementioned report — so you know where to look if you want more information about it.
Despite the criticism it receives from people like Johnston, Darryl Goins still believes reverse osmosis water is some of the best stuff you can get on the market. He owns 3D's Water Wheel, which sells only reverse osmosis water.
"When you're looking at purified water, in my opinion, you want everything taken out, the good or the bad," Goins said.
His thought is that while reverse osmosis water may be lacking in essential minerals, it's not the only source of those nutrients.
"Anybody who eats root vegetables should be getting all of the nutrients they need," Goins said.
Additionally, depending on what minerals someone may be lacking in their body, they can specifically supplement that into their diet by buying concentrated forms of it at health food stores, he said.
"If I add minerals, what's good for my body might not be good for yours," Goins said. "I would much rather have the pure water than have chemicals added into it."
More like this story