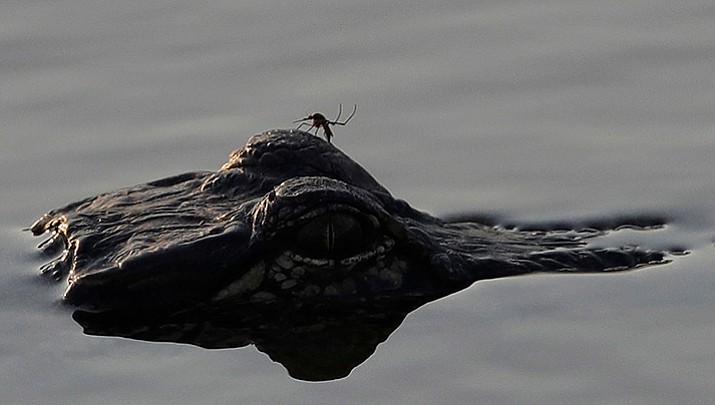 Originally Published: September 8, 2017 6:05 a.m.
The Friday Catchall:
• HURRICANES – While Irma has ripped through the Caribbean on its way to Florida this weekend, it must have been a slow news day for the media drawn to the destruction in Houston like insects to a light.
That actually would be mosquitoes drawn to (or spawned from) water, because the headline had it: "Mosquitoes swarm workers near Texas Coast after Harvey."
Surprised? I'm not, considering the amount of water we've seen there on TV, except that the little bugs are considered the deadliest "animal" in the world – responsible for the deaths of at least one million people each year, according to the World Health Organization.
The majority of those deaths come from malaria. In Arizona, under Houston-like conditions, they would wipe out the horses and affect humans through West Nile Virus and other maladies.
Lesson: get rid of standing water.
• SCAM? – We have heard about contractor scams and hurricane donation fraud (watch out for these); however, a new one has hit the Prescott Valley Chamber of Commerce.
"We received a call from a member telling us that they were contacted by someone who is selling ads in a Community Guide and was working with the PV Chamber. They had an 888 telephone prefix," Chamber President and CEO Marnie Uhl wrote in an email Thursday. "This is not true. We are not working with any company at this time and when we do work on our Official Prescott Valley Community Profile and Business Directory we contact our members with a letter."
Folks, whether it's a call from the Chamber, the IRS, APS or a police foundation, do not assume it is legitimate – and never give out personal information over the phone.
When in doubt, check it out.
• SOCCER – I receive a lot of emails and some are lists – what is best, who ranks high, etc. – and this week it was the top cities for soccer fans.
I guess my decades in the Prescott area have left me a bit biased. When I saw Kansas City at the top, followed by Orlando, Florida, and Los Angeles, California, I hoped Prescott, Arizona, would have made the top 10 or 20.
The poll was about Major League Soccer, but it should have noticed our famed (or infamous) Yavapai College Roughriders, I say. They have made it to nationals 20 times since 1990. From 1990-2009, Yavapai captured an astounding 19 out of 20 region and district crowns.
Frankly, Yavapai stands in a class by itself – having snared its Junior College-record seven national titles in 13 championship match appearances. The Roughriders have also finished in the final four 18 times.
There's more: Mike Pantalione, Yavapai's coach for 29 years, has a career record of 596-54-28 (add in the recent victories!). And, the team achieved its 350th shutout in August.
Could they compete against MLS teams? Maybe – what, five or six former Roughriders currently play on pro-soccer (real "football") teams in Europe!
• CLOSURE – Apparently the forest-area closure because of the Goodwin Fire is continuing, with some people scratching their heads. Boundaries don't exactly jive with the burn's maps, and hunting seasons are beginning or are underway.
The June 24-July 10 fire and ensuing monsoons have made the burn areas fragile and unsafe, in some cases, Prescott National Forest officials have reported.
I am fine with that.
I guess I would feel differently if my hunt was in Game Management Unit 20A. Yet, I'd never want to go out there and take unnecessary risks.
• PICK OF THE WEEK – (Proving there's always something good to do in the Prescott area that's cheap or free): On Thursday, Sept. 14, it is the United Way's 2017 fundraising kickoff event at 5:30 p.m. in the Holiday Courtyard, 150 S. Montezuma St., in downtown Prescott. Even better than the food, raffles, and auctions is the fact that Don Cheek and
The CheekTones will perform! 928-778-6605; admin@yavapaiuw.org.
More like this story