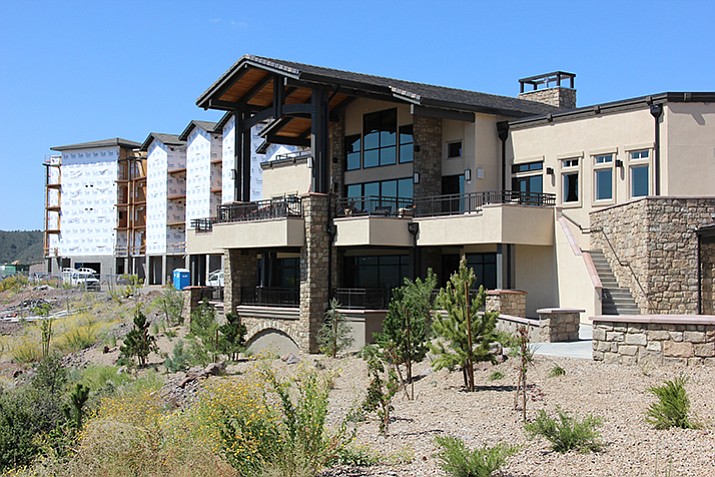 Photo by Max Efrein.

Originally Published: September 3, 2017 6:02 a.m.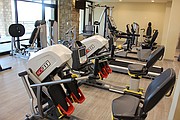 "It's just awesome views up here," said Neal Sneller.
Sneller is a marketing team member with Touchmark at The Ranch, a senior living community being built in Prescott overlooking Highway 69 near Wal-Mart.
He made this comment while standing on the back patio of the development's new clubhouse.
The completion of the clubhouse is a significant milestone for what has already been a several-year project.
In addition to serving the community's residents, the clubhouse, which will feature a restaurant, fitness center and pool, will be open to the public starting this October. The restaurant will be open to the general public while the fitness center will be restricted to adults 50 and older on a membership basis.
"Within the industry itself, everything is usually sort of wrapped behind a gate, so this is kind of new for the industry to have a public interface," Sneller said.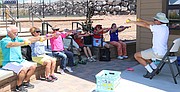 Adjacent the clubhouse is what they're calling the Grand Lodge, a more than 550,000-square-foot structure expected to be open in mid-2018. In addition to about 300 apartments broken up into sections for independent living, assisted living, dementia care and memory care, it will feature a fine dining restaurant, a bistro and a convenience store.
As one ventures farther into the complex, there is a neighborhood of 42 lots designed for single-family homes — 24 of which have sold so far.
Several homes have already been built and are being lived in.
Barbara Bruno, 69, and her husband, 76, moved into their freshly constructed home in January.
"We were the first family of Touchmark," Barbara said with pride.

They had previously lived in Walker before making the decision to move. For them, the primary draw of the new senior living community was not having to worry about their golden years.
"We just wanted to have maintenance-free living," Bruno said. "And long-term. You can live here, and if you need assisted living or memory care, it's all available on one site."
They also liked the idea of having a social environment in their backyard that makes it easy for them to get out of the house and enjoy their remaining years.
"We wanted a whole neighborhood, not just a nursing home," she said. "We wanted all of the exercise stuff, healthy eating; all that."
These remarks are congruent with Touchmark's advertising campaign.
"The whole lifestyle really becomes the selling point," Sneller said. "Over the last 10 to 15 years, the whole idea of aging has changed, where throughout the industry these communities have become much more resort style and the idea of a nursing home has gone away."
On a community-impact level, Tom Biel, Touchmark at the Ranch's executive director and executive vice president for the entire Touchmark company, believes the new senior living community is a boon for Prescott not only economically, but also spatially.

"We're part of the solution for sprawl," Biel said.
Over half of the people who have so far signed up to be residents at the community were already living locally, he said. Therefore, as they've moved into this more densely populated complex, their long-time family homes scattered throughout the area have gone back on the market.
"That frees up existing homes in Prescott for the next generation," Biel said.
Dominique Jewett is a prospective resident who recently visited Touchmark at the Ranch during one of its public engagement events.
While she finds it appealing, she is concerned about the cost.
"You know they want almost $5,000 a month to get in here?" Jewett said.
Touchmark representatives said that amount is only one payment plan option and that it varies significantly depending on the wants and needs of the residents. Additionally, the monthly fee includes all utilities, maintenance, landscaping, housekeeping, television, telephone, fitness membership, choice dining and enrichment programs.
Considering all of this, Jewett doesn't necessarily find the price tag unreasonable, but she's not so confident that she and her husband can afford it.

"It all depends on how long we live," she said.