Originally Published: October 31, 2017 6:01 a.m.
Photo Gallery
Palo Verde Nuclear Generating Station Tour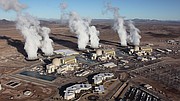 Every six months, the Palo Verde Nuclear Generating Station shuts down one of its three reactors for refueling and maintenance. During these closures, APS sometimes invites various government officials and others to tour the closed reactor. Jack Smith, a Yavapai County District Supervisor, took APS up on the offer, touring the shut-down reactor on Monday, Oct. 23.
When you flip on a light switch or turn on your oven, do you ever consider where the electricity to run that appliance comes from?
Arizona's energy portfolio is diverse, but the king of the desert is the Palo Verde Nuclear Generating Station, Arizona's only nuclear power plant. It produces about 35 percent of the electric power generated in Arizona and is the largest net generator of electricity in the nation. Overall, this power serves about four million inhabitants of Arizona, California, New Mexico and Texas.
Every six months, the station, located west of Phoenix in Tonopah, Arizona, shuts down one of its three reactors for refueling and maintenance. During these approximately 30-day closures, stakeholders, various members of government and the media are occasionally invited to tour the closed reactor. Coordinating these tours is Arizona Public Service, which owns about 29 percent of the plant and is tasked with managing its daily operation.
Jack Smith, a Yavapai County District Supervisor, decided to take APS up on the offer this month.
On Monday, Oct. 23, he donned a bunny suit (a colloquial term for a white protective outfit), a hardhat and safety goggles, and was led through the shut-down reactor. Each visitor is also provided a radiation monitor to show that their exposure to any residual radiation lingering in the reactor chamber is well below dangerous levels.
Going into it, Smith, admittedly, had some preconceived notions.
"When I think of nuclear power, I think of the movie like China Syndrome," Smith said. "I think of things like if something goes wrong, we're going to have a major meltdown and many people are going to die or be affected."
That image was dispelled by the time the tour ended.

"It's extremely safe," Smith said. "The safeguards that they have to shut down the reaction takes literally seconds."
Plant security
The level of security at the Palo Verde Nuclear Generating Station is also beyond what one might think.
In addition to annual security inspections, analysts from the federal government review the plant's security plan about every three years.
"They bring in a force and test our actual security to see if our security plan defends against what we need to defend against," said Bob Bement, Executive Vice President and Chief Nuclear Officer for Palo Verde Nuclear Generating Station.
Much of this has to do with making sure there is no entrance that is unmonitored, he said.
"They look at things like 'could someone swim against the current of water being discharged from the plant and come in that way,'" Bement said.

Additionally, the plant is one of the few in the country that has its own fire department. When the plant was commissioned about 30 years ago, the nearest fire department capable of serving the plant's needs was 35 minutes away. That wasn't good enough of a response time, said Palo Verde Fire Chief Dewey Horton.
"We're pretty much our own little city, if you will," Horton said.
Clean energy?
Smith was also impressed with how clean of an energy source nuclear power appears to be.

"It burns clean," he said.
Even the waste it produces seemed well managed. As is necessary for most nuclear power plants in the country, the highly radioactive spent fuel rods from the reaction process is stored on-site in pressurized stainless steel containers wrapped in eight inches of concrete. About a football-field-sized storage facility is devoted to this purpose. The pad was built to withstand earthquakes or any other form of event planners were able to imagine that may damage the casks.
The problem, however, is this waste remains highly radioactive for about 250,000 years.
"It's an emotional issue, because it's radioactive forever, but it's not much different than the waste of any way we generate electricity in the United States of America," Bement said. "There's waste for every one of them. Solar wants to act like they don't have waste, but there is waste. The chemicals in those solar panels have to go somewhere, we just don't happen to have any rules to deal with where they go, so they go in the landfills, which is a bad place for those to go."
Construction of a national site to store all of the country's spent nuclear fuel in was well on its way at Yucca Mountain in Nevada, but strong opposition from Nevadans put an end to the project's funding in 2011. Essentially, the campaign ran on the slogan "Not in my back yard."
That poses the question of where to put all of this nuclear waste if no one wants it near them.
There's been discussion of reviving the Yucca Mountain project, but potential alternatives have also presented themselves in recent years.
"Right now, west Texas, east New Mexico, they want to put an interim storage facility there and both the surrounding areas support that," Bement said. "To get the fuel all moved to a central facility would probably be a good thing for us, although there's nothing unsafe with it sitting at the nuclear plants."
How about a nuclear power plant in Yavapai County?
Given all of the information Smith received from his experience, he's surprised there aren't more nuclear power plants in Arizona.
He also said he would support the building of more plants in the state, even if one was proposed for his district.
"Yes, most likely," Smith said in response to the question. "Because we're now understanding a lot more about the safety aspects of it and the clean burning of it, the jobs that it supports; plus, we do like turning on a switch and we do have limited resources when it comes to our earth and our atmosphere and so on."