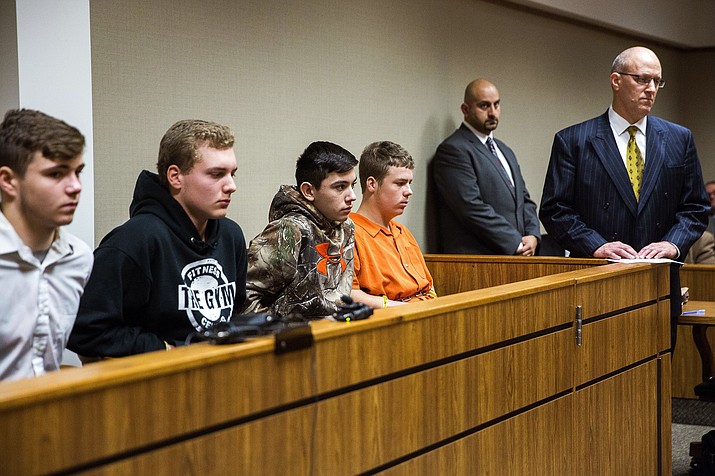 Originally Published: October 30, 2017 6:04 a.m.
I like to tell myself that most people do something incredibly stupid when they're young, but perhaps that's just to excuse my own idiocy.
There are two things I did when I was young that I now deeply regret. The first I recently confessed to my father. The memory is a little hazy, but I think it was a cousin and I who started a fire in the field behind my granny's apartment.
We soon realized that this was a mistake and ran to my grandmother to tell her. She and a neighbor woman put out the small blaze, luckily no fire trucks needed and no lives were put at risk.
My dad wasn't happy that I had put his mother at risk, and worse yet, that I had waited decades to tell him about it.
"The statute of limitations has expired," I reminded him.
"My belt doesn't have a statute of limitations," he reminded me.
The second dumb thing I did, well, I've never told anyone about that. Have no desire to do so now, think I'll take that one to the grave. No lives were at risk, but it was a very cruel thing to do and I'm too embarrassed to admit it.
Which brings me to five boys in Michigan. On Oct. 18 the five friends, ages 15 to 17, from Clio, Michigan, were doing what some teenaged boys do, goofing off. They walked onto an overpass of I-75 outside Flint, and according to media reports, tossed about 20 rocks and a tire down at the speeding cars, many of them traveling at 70 miles per hour.
It was an incredibly stupid thing to do. One of those five boys should have had the courage to say so and stop his friends. We don't know yet if one of them tried.
After tossing the rocks, some of them quite large, the boys drove to McDonald's to eat. Later that night, one of the boys saw the news, then drove to the county jail and turned himself in.
Kenneth Andrew White was a passenger in a van traveling down I-75 at the wrong time. A six-pound rock came crashing through the windshield before striking him in the head and chest.
The 32-year-old construction worker, a father of a 5-year-old boy and engaged to be married, died at the hospital.
Four other cars were damaged by the rocks. Luckily, no one else died.
Authorities decided to charge the boys with second-degree murder and that they will be tried as adults. Their names have been released, their lives ruined and the lives of those around them thrown into turmoil.
At first I thought second-degree murder was a bit harsh (why not manslaughter?), but according to Michigan law it's the right call. The two possibilities for that charge: An unplanned, intentional killing; or a death caused by a reckless disregard for human life. There is no question there was reckless disregard for human life.
Perhaps it was my own recklessness as a youth that had me questioning the choice.
Teens, have the courage to overcome peer pressure and speak up when you and your friends might be going too far. We all do dumb things, but make sure they don't end in death. At least one, if not all of those boys, should have known this was an incredibly stupid thing to do.
Parents, talk to your children about consequences. Use this terribly sad case to start the conversation.
Have to go, my 81-year-old father is holding his belt ominously and requires my undivided attention.