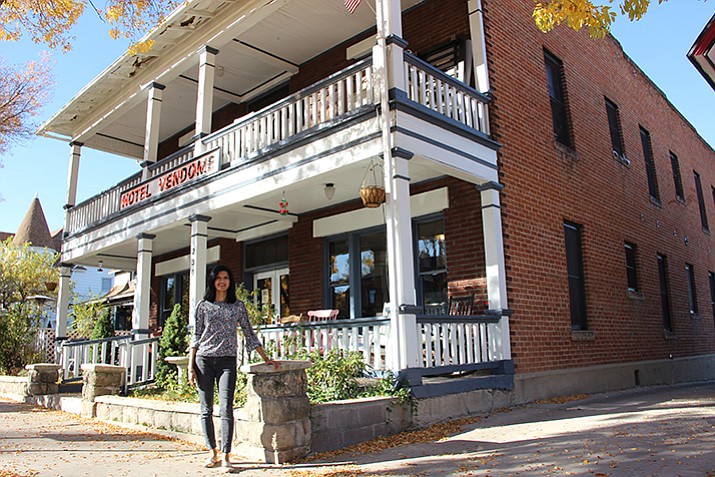 Originally Published: October 29, 2017 6:05 a.m.
Open House
To celebrate the business's 100th anniversary, the Patels will be hosting an open house from 1 to 5 p.m. Sunday, Nov. 5.
230 S Cortez Street in Prescott.
The Great Depression, the rise of corporate America, the invention of the World Wide Web, the election of 18 U.S. presidents … it has survived it all.
For 100 years, Hotel Vendome has served as a small hospitality business in Prescott.
Established in 1917, the hotel was originally built to accommodate new miners and settlers in the area.
Since then, owners have come and gone, but its name and purpose have remained the same.
In the 1980s, the historic building underwent a major renovation, during which the original 31 rooms was reduced to 21 so personal bathrooms could be fitted in each.
In the early 1990s, however, the property went into foreclosure.
Seeing it as a unique business opportunity, the Patel family bought the property in 1994. They had already owned a motel in Prescott Valley at the time, so they were familiar with the industry.
"My mom saw the hotel and sort of fell in love," said Sonali Patel.
Sonali's parents managed the business before leasing it out in 2002. New owners came in and stuck with it for about seven years before moving on. Eric and Stephanie Marichal then stepped in as the owners in 2010, but that lasted only for about five years.
Sonali and her brother, Nikhil, now run the business and are determined to keep it going.
"It just keeps coming back to us, and now that we're older, it's one property that we didn't want our folks to sell," Sonali said.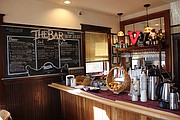 The siblings spent many-a-day during their high school years helping out in the hotel and feel it has a tremendous amount of life still left in it.
"It's a great property; it's got history; the location's great; and my background over the last 15 years kind of mixes in with a lot of the things I'm doing at the hotel, from real estate to hospitality and technology," Nikhil said.
Despite various upgrades over the years, the hotel retains much of its historic charm with many original features, such as claw foot tubs, transom windows, a front desk call-bell system and warped wooden floors that creak as you walk on them.

Haunted
Not to mention, it's haunted by a ghost named Abby and her cat.
Legend has it that Abby and her husband were managing the hotel in its early years when they fell into debt, Sonali said. When the business was bought by new owners, they allowed Abby and her husband to stay in room 16. Abby's illness took a turn for the worse and her husband went to pick her up some medicine, but never came back.
"So our haunting isn't like anyone murdered her, it's more she passed away apparently in room 16 with her cat, Nobel," Sonali said. "A fair amount of people will only want to stay in that room to experience things, take videos and stuff like that."
Future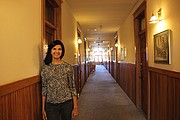 Moving forward, the Patels intend to continue working to improve the building and boost business.
Part of their ambition is to better engage the local community through various offerings unrelated to staying overnight.
This includes starting an artist in residence program. The idea is to provide one artist at a time a room for three months so they can use the surroundings to create whatever form of art they want and perhaps teach classes on the premises.
The Patels have also been pushing the idea that their beer and wine bar is not only for guests.

"We want locals to feel that they can come to the bar for a drink," Sonali said. "It's just another option than Whiskey Row."
To celebrate the business's 100th anniversary, the Patels will be hosting an open house from 1 to 5 p.m. Sunday, Nov. 5.
It will include a tour of the building, door prizes, light hors d'oeuvres, drinks and live music by Scandalous Hands. There will also be a food drive in support of The Salvation Army. Everyone is welcome.
Hotel Vendome is located at 230 S. Cortez Street in Prescott. Call (928) 776-0900 for more information.