Originally Published: October 29, 2017 5:59 a.m.
Earnhardt interested in penning book on concussion recovery
MARTINSVILLE, Va. — Dale Earnhardt Jr.'s to-do list during retirement continues to grow. NASCAR's most popular driver is interested in writing a book about his recovery from multiple concussions.
Earnhardt has four races left before he retires from full-time competition. He'll compete Sunday at Martinsville Speedway, which donated $10,000 to Patrick Henry Community College to start the Dale Earnhardt Jr. Honorary Scholarship Motorsports program.
This scholarship is to help students at the college who are in the PHCC motorsports program further their education and ultimately reach their goals of working in motorsports. Earnhardt has asked tracks to make his retirement gifts impactful gestures for local communities.
Charlotte Motor Speedway earlier this month donated $100,000 to establish the Dale Earnhardt Jr. Concussion Research Fund at the Carolinas Healthcare System's Levine Children's Hospital in Charlotte.
Asked Saturday if he considered writing a book about his career, Earnhardt noted that he'd done "Driver No. 8" with author Jade Gurss that chronicled his meteoric rise to fame as a rookie. Now, his main interest would be in helping others who have suffered head injuries.
Earnhardt missed the second half of last season because of concussion symptoms, and he's said he will donate his brain to science for concussion-related research.
Gragson wins 1st Truck Series race with Martinsville victory
MARTINSVILLE, Va. — Noah Gragson celebrated his first Truck Series victory by impersonating Helio Castroneves and climbing the fence at Martinsville Speedway.
Then he took it a step further and did pullups while dangling from the fence.
It was a bit too much for the 19-year-old. He vomited over the side of the racetrack wall after his climb.
That wasn't Gragson's only gaffe. He referred to Martinsville's signature grandfather clock trophy as a "granddaddy watch," then struggled later to discuss the historic piece.
"What the hell do you do with that thing, honestly? They don't teach kids anymore how to tell time like that," he said.
Gragson, who is from Las Vegas, won for Kyle Busch Motorsports. Busch, who also is from Las Vegas, uses that team to groom young talent.
That youthfulness was on full display as Gragson recalled how he started in racing.
"I was playing 'NASCAR Inside Line' the video game, around this place and it's a lot of fun to play that game," Gragson said. "I kind of had playbacks in my head those last couple laps. I was praying for no caution ... I was thinking about making laps on that video game. Started off there and then to be actually racing here in the NASCAR Camping World Truck Series, it's a great privilege and it's awesome."
Gragson is the 10th first-time Truck Series winner at Martinsville, and his victory denied a driver from earning an automatic berth in the championship race of the playoffs. He passed Crafton on the outside on a restart with 10 laps remaining, and it denied Crafton the ticket to the finale.
Crafton finished second after leading a race-high 102 laps.
The race at Martinsville was the first in the round of six for the series. Two drivers will be eliminated from the field, and Gragson is not championship-eligible.
Johnny Sauter was third. Both he and Crafton won a stage of Saturday's race. Harrison Burton was fourth and followed by Todd Gilliland.
Playoff-bound driver John Hunter Nemechek had a brake issue that caused his truck to slide into the outside wall early in the first stage. Nemechek immediately drove the truck behind the wall and he's now 62 points behind playoffs leader Christopher Bell.
Bell spun in the third segment on Lap 122 after contact with Crafton. Bell recovered to finish eighth.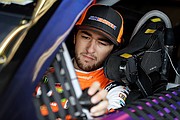 Elliott fastest playoff driver in Martinsville practice
MARTINSVILLE, Va. — Chase Elliott was fastest of the playoff contenders in the final practice before Sunday's race at Martinsville Speedway.
The playoff field has been cut in half to eight drivers, and they have the next three races to earn one of the final four spots in next month's championship race. A victory earns an automatic berth to the championship race.
Championship favorite Martin Truex Jr. was third fastest in practice, which was led by non-playoff driver Joey Logano. Truex has a series-best seven wins this season and has won three of the six playoff races to date.
Martinsville Speedway has a condensed two-day schedule this weekend in which Saturday had just two hour-long practice sessions. Qualifying is scheduled for Sunday, hours before the race.
The compacted schedule replaced on-track Cup activity Friday with fan fests and autograph sessions. It's a cost-cutting move for teams, who pay less in travel with a shorter at-track schedule.
But it puts a strain on the playoff teams that have little preparation time to get ready for Sunday's critical race.