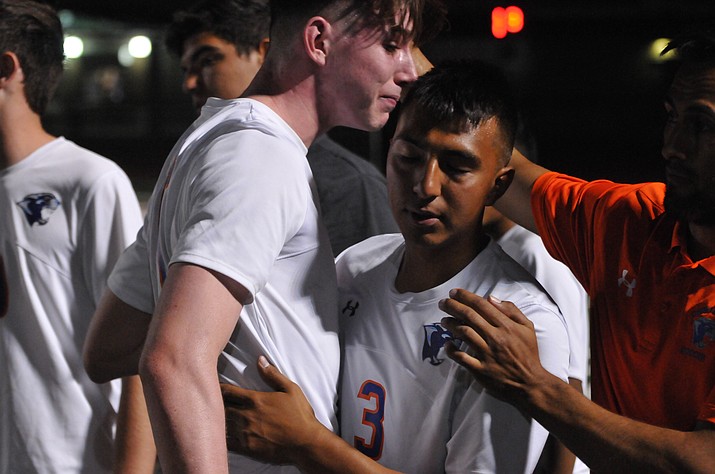 Photo by Doug Cook.

Originally Published: October 28, 2017 12:22 a.m.
GILBERT — Chino Valley's boys' soccer team's domination of the small-schools' division ended difficultly on Friday night, as upstart Phoenix Country Day knocked out the previously unbeaten four-time defending state champions, 1-0, in the 2A state semifinals at Campo Verde High School.
The top-seeded and unbeaten Cougars were deadlocked in a scoreless tie with the fifth-seeded Eagles at halftime. But in the 42nd minute of regulation, some 2 minutes into the second half, Country Day senior Ryan Goodman ripped a shot in the box to hand the Eagles the lead for good.
"Our defense played fantastic — they cleared out everything — and our midfield really worked the ball around nicely," Goodman said. "It made it easy for the chances to flow."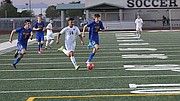 After scoring the goal, Country Day's taller, lankier lineup prevailed over Chino Valley's speed and quickness offensively. The Eagles packed in their defense, putting as many as seven guys on their end of the field in the final minutes to preserve the shutout.
"Our strategy is always to play good soccer," said first-year Country Day coach Andy Rodin, who has nine seniors on his roster. "These kids know what they're doing, they've worked hard, they can move the ball around. Chino's done that for years and years, and we've watched them do it, and kind of emulated their work. We just happen to have a tough group of boys this year."
The Cougars finished the season with a 21-1-0 overall record, and saw their 33-game winning streak get snapped. Country Day improved to 11-2-1, and has won its last four matches by a combined 36-0. At 5:30 p.m. today, Oct. 28, at Campo Verde's football field, the Eagles will battle No. 2 Blue Ridge for the 2A title. Blue Ridge eliminated No. 6 Show Low on penalty kicks in their semis match later in the evening.
Chino Valley had not been shut out by an opponent since 2013. The Cougars allowed only six goals all season. They defeated Country Day, 2-1, in a hard-fought win at home Oct. 3.
"We just couldn't connect as a team," Cougars junior defender Johnny Gomez-Beltran said. "That's what we needed, honestly. We needed to have that chemistry in order to go through their defense and put a goal in there."
It may be a long time before another soccer team in Arizona wins four consecutive 2A state titles.
"It's been a great run, and it makes even losing that much harder," Cougars coach Todd Carey said. "The guys aren't used to losing, so it's hard for them to take it. We've always been there the last game. We've always won the last game."
First-year Eagles goalkeeper Ty Rodin, formerly a field player and an athletic three-sport athlete, made at least three solid saves to preserve the victory.
"We've shown ourselves over the season," Ty said. "We deserve this. It's our time. All these seniors deserve it. We're just so happy. We'll just enjoy it while it's here."
Carey said before the match that the Eagles would be a stiff test for his boys. Chino Valley had come from behind to win three times during the regular season, including twice against rival Camp Verde and once against Country Day.
"Once we fell behind, it just felt like we had to score right away, and we were rushing things and not making those extra passes," Carey added. "They're a very good team. They possessed the ball really well, they made their passes really good. I really felt they only had that one good chance to score, and they did.
"We had a few chances, we just didn't capitalize. That's how soccer goes sometimes."
The toughest test for the Cougars came in the midfield, where Country Day dominated the passing lanes behind brothers Griffin, Decker and Brennan Freret. Rodin calls them the "heart and soul of the team," adding, "as they go, we go."
Decker Freret was credited with the assist on the eventual game-winning goal.
"When we saw them play the last few years and took it on the chin from them — they're very, very good — we decided that we were losing games in the center of the field, our center midfield," Rodin said. "And so we've spent the last couple years really trying to build up our center midfield, creating an alignment that allowed us to rely on a trio of players in there that we thought could control the middle of the field.
"That's what we were able to do, and it frustrates them when they can't control the ball."
One thing that Chino Valley's players can control is being grateful for their success these past four years.
"We had a great run," senior forward Elijah Desmond said. "It was time for us to lose eventually, but it sucks for it to be now. We tried our hardest, and we tried to keep our legacy going, but sometimes not always the best team wins."
More like this story