Originally Published: October 28, 2017 5:58 a.m.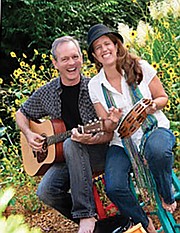 "Tales From the Trenches: or Who is Teaching Whom?" is the topic at the 11 a.m. service at Prescott Unitarian Universalist Fellowship at 945 Rancho Vista Drive, Prescott. That dynamic duo, Henry and Maria Flurry (also known as Sticks and Tones) will present a program alternating between music and anecdotes, that shares some of the enlightening and frequently humbling lessons they have received from their music students.
In their professional lives, Henry and Maria Flurry of Sticks and Tones enjoy a balance between performing, teaching, and composing. They write for and perform with orchestras while teaching private piano, percussion, and woodwind lessons to students of all ages. Additionally, Stick and Tones performs educational concerts in schools, libraries, and concert venues across Arizona.
In August 2018, Yavapai College launches its 50th year with a concert of Henry's music conducted by Peter Bay (Austin Symphony) and performed by Prescott's own professional orchestra (Arizona Philharmonic) on its inaugural concert. James d'Leon premiers Henry's piano concerto, Currents, and Maria will solo on Ragtime Dances, commissioned and premiered by Prescott Chamber Orchestra in April of this year.
All are welcome with Beit Torah Jewish Congregation to celebrate birthday month with Rabbis Adele and Marie (www.onetorah.org). Please call for directions and details: 928-237-0390, 227-0582 or email ansheitorah@cableone.net.
Mingus View Presbyterian Church in Prescott Valley is celebrating the retirement of its pastor, the Rev. Lloyd Evans this weekend. On Saturday, Oct. 28, the congregation will celebrate Rev. Evans' eleven years of service with a luncheon at the church. Then on Sunday, Oct. 29, Rev. Evans will lead his final worship service with the Mingus View church. Pastor Lloyd began his ministry in Prescott Valley in 2007 after retiring from other academic and church work. Church members, friends, and family will be present to give him a rousing send-off after his many years of dedicated service.
First Lutheran Church, 231 W. Smoke Tree Lane, Prescott, will host a special worship service observing the 500th anniversary of the Lutheran Reformation at 3 p.m. Sunday, Oct. 29, 3 p.m. The observance is sponsored by the Wisconsin Evangelical Lutheran Synod congregations of the Grand Canyon Circuit: First-Prescott, Christ-Prescott Valley, Hope-Chino Valley, Mount Calvary-Flagstaff, Our Shepherd-Cornville, Peace-Cottonwood and Rock of Ages-Payson. Guest preacher will be the Arizona/California district president, the Rev. Jon Buchholz of Emmanuel-Tempe. This year marks the 500th anniversary of Martin Luther nailing the 95 Theses to the door of Castle Church in Wittenberg Germany, signaling the beginning of the Lutheran Reformation.
Why a Reformation? The church was in desperate need of one. Three truths of God's Word that Luther stood firm on are:
1) Sola Gratia (saved by grace alone) — "For God so loved the world that he gave his one and only Son" (John 3:16a)
2) Sola Fide (saved by faith alone) — "That whoever believes in him (Jesus) shall not perish but have eternal life." (John 3:16b)
3) Sola Scripture (saved by scripture alone) — "These are the scriptures that testify about me (Jesus)" (John 5:39b).
May God continue to bless his church today and always!
On Sunday, Oct. 29, from 5:30 to 6:30 p.m. Mountain View Baptist church will host a gospel music concert with "Fireside Bluegrass Band." You are all invited to come and spend a wonderful evening with them. Refreshments will follow. Admission is free but a love offering will be gratefully accepted.
Mountain View Baptist Church is located at 395 Pony Place, Dewey. Take Highway 69 to Kachina, turn west to Pony Place then to the church.
"The Secret Lies in How We Treat Each Other," Sunday, Oct. 29, at 10 a.m., Granite Peak Unitarian Universalist Congregation, 882 Sunset Ave., Prescott
Dia de los Muertos will be celebrated Sunday, Oct. 29, at the Granite Peak Unitarian Universalist Congregation in an intergenerational worship service focused on honoring Mexican culture, and honoring our ancestors who have died from this world. Service guests are invited to bring a photo or memento to place on the ofrenda during the ceremony.
There is a staffed nursery for infants, toddlers and pre-schoolers.
Sunday morning service attendees are invited to bring non-perishable food items such as canned food items, including soups, proteins, chili, pasta sauce, fruit and beans, as well as toiletries, especially toothpaste and brushes, deodorant, razors and shampoo for donation to the Coalition for Compassion and Justice (CCJ) Open Door Food Bank.

For more information, please visit us on Facebook at:
https://www.facebook.com/granitepeakuucongregation OR our website: http://www.prescottuu.org
St. Luke's Episcopal Church will be hosting a vibrant, eclectic fundraising event featuring local artists, merchants' products & services, breweries, wineries and Arizona's only meadery! This gala event, the third annual "A Taste for Mission," will happen from 3 to 5 p.m. Sunday, Oct. 29. Our tasting and silent auction will include culinary delights prepared by local chefs and foodies! Cost for the event is $30.
Original local works of artists and crafts people, and other products and services, will be auctioned through a silent auction format. Proceeds benefit the general Mission of St. Luke's. Some of the programs St. Luke's is known for in the community include its dedicated youth group and outreach programs (examples: St. Luke's Don't Spend Christmas Alone, other community-wide outreach programs like local area food banks, Operation Deep Freeze, Granite Creek Hunger ministry, Quixote's Garage and providing a music venue for the Prescott Chorale and the Prescott Chamber Orchestra).
Purchase tickets by going to TasteForMission.Eventbrite.com, at the church office, after Saturday and Sunday services, or at the door the day of the event. St. Luke's is located at 2000 Shepherds Lane, Prescott, (near the airport, off Highway 89 and Ruger Road). For more information, email info@slecp.org or call 928-778-4499.
Trunk-or-Treat 6 to 8 p.m. in our St. Catherine Labouré Church parking lot on Tuesday, Oct. 31. Everyone is welcome! 928-636-4071. 2062 N. Hwy 89, Chino Valley.
Lutherans celebrate Reformation Sunday
He didn't set out to start a reformation, or a new denomination. But 500 years ago this week, Martin Luther couldn't remain quiet about the disparity he found between scripture and church practices.
So on Oct. 31, 1517, the German monk posted a list of concerns, the 95 Theses, on the door of All Saints' Church in Wittenberg, starting the Reformation in Europe, and beginning Protestant church movements throughout the world.
Join Emmanuel Lutheran Church in Prescott Valley Sunday for one special service at 9:30 a.m., commemorating the Reformation. The service will feature the Chancel Choir, Jubilate handbell choir, and accompanist Cathy Namock, under the direction of Gene Fougner, performing "Fanfare and Concertato on "A Mighty Fortress Is Our God," Martin Luther's signature hymn, arranged by Jon Paige and Brad Nix. It's traditional to wear red for Reformation Sunday, but come in any color you wish!
Emmanuel Lutheran Church is a member of the Evangelical Lutheran Church in America, and is located at 7763 E. Long Look Drive, Prescott Valley. It is also a Reconciling in Christ church, meaning all are really welcome in our faith family. For more information, call 928-772-4135.
St Catherine Labouré Catholic Church, 2026 N. Hwy. 89 Chino Valley, present their annual Christmas Bazaar where a network of local craftsman will display a variety of treasures for sale. Nov. 3 and 4, 9 a.m. to 3 p.m. both days. Saturday: Classic cars in the parking lot. Picture taking with Santa Claus come listen to the Sweet Adelines 11 a.m. to 2 p.m. Raffles throughout this two day event.
Trinity Lutheran Women's Ministry Program of Trinity Lutheran Church in Prescott Valley is sponsoring its 11th annual Holiday Craft and Bake Sale from 9 a.m. to 3 p.m. Saturday, Nov. 4. There will be a large group of many types of crafters with their tables of great items for sale and also wonderful home-baked goodies. Come early and purchase a hot homemade cinnamon roll baked fresh with a cup of coffee and enjoy while shopping. Lunch will also be served: a barbecue sandwich, coleslaw, chips and a drink. The event will be held in Trinity Hall of God's World building at 3950 N. Valorie Drive in Prescott Valley. For more information, call Chairperson Arlene at 928-445-8279. All proceeds will go toward various charities and service projects helping people in this area.
St. Luke's Episcopal Church will focus on youngsters in a special service the first Sunday of each month. Our next service for youngsters will be 9:15 to 9:45 a.m. on Sunday, Nov. 5. You do not need to be a member of St. Luke's to join us for this simple, but heartwarming, service. All Are Welcome! We will be meeting in the Meditation Room at St. Luke's, which is located at 2000 Shepherds Lane, Prescott (near the airport, at 89 and Ruger Road). For questions email info@slecp.org, or call 928-778-4499.
On Sunday, Nov. 5, Mingus View Presbyterian Church in Prescott Valley will welcome its new interim pastor, Lois Hildenbrand, to the pulpit.
Pastor Hildenbrand lived for many years in Alaska, working first in the health-care field. She was called to the ministry and completed training as a Commissioned Lay Pastor in the Presbyterian Church (U.S.A.). Pastor Lois served several churches in Alaska before moving to Mesa, AZ, where she served First Presbyterian Church, Mesa, as its interim pastor.
Veteran's Day Music program 3 p.m. on Sunday, Nov. 5 in our main sanctuary at St. Catherine Labouré Church. A light reception will be held immediately following the program. Everyone is invited! 928-636-4071. 2062 N. Hwy 89, Chino Valley.
First Southern Baptist Church, Chino Valley will be hosting: "Dave Ramsay – Smart Money Live Stream," 6 to 9 p.m., Tuesday, Nov. 7, at 1524 N. Highway 89, Chino Valley. All are welcome! 928-636-2014.
First Church of the Nazarene will host a blood drive from 8 a.m. to 1 p.m. Saturday, Nov. 11, at the Fellowship Hall, 2110 Willow Creek Road in Prescott. For more info, call Clay Conboy at 928-771-1601, 928-848-1601 or email cconboy1@cableone.net.
Blood drive, 8 a.m. until 1:15 p.m., Saturday, Nov. 11, St. Catherine Laboure' Church hall, 2062 North Hwy 89, Chino Valley. Sponsored by the Knights of Columbus. To schedule an appointment, call Paul Diemer 928-636-0747. Walk-ins welcome.
2017 Annual Christmas bazaar and bake sale. Sponsored by the Ladies Guild of St. Germaine. Saturday, Nov. 11, 9 a.m. to 4 p.m. and 5:30 to 6:30 p.m. Sunday, Nov. 12, 9 a.m. to noon. Handcrafted items, homemade baked goods. Photos with Santa Saturdays only 10 a.m. to 2 p.m. St. Germaine Catholic Church, 7997 E. Dana Drive, Prescott Valley.
Mingus Presbyterian Church's Craft Fair will be from 8 a.m. to 5 p.m. Friday, Nov. 17, and 8 a.m. to 4 p.m. Saturday, Nov. 18. It will feature more than 25 crafters with food and fun for everyone. The church is located at 8340 E. Leigh Drive in Prescott Valley.
The Lutheran Women's Missionary League annual Christmas bazaar, bake sale and quilt raffle at Shepherd of the Hills Lutheran Church will take place on Friday, Nov. 17 and Saturday, Nov. 18 from 9 a.m. to 3 p.m. In addition to hand-crafted items created by our members, handmade items of all types will be sold by local vendors. Food for a light lunch will be available for purchase. Shepherd of the Hills is located at 1202 Green Lane in Prescott. All proceeds from this event will benefit our mission projects, all of which are located in the tri-city area. Supporting funds are provided by Thrivent Financial Aid for Lutherans. For more information, please contact Jan Krebs, 928-778-1672 or the church office, 928-778-9122.
After more than two decades at Yarnell Community Presbyterian Church, Pastor Paul Jones is retiring. He preached his last sermon at the church on Oct. 1, 2017, and it is the intention of Paul and his wife Anne to remain in the Weaver Mountain area.

Paul grew up in rural Alabama, one of four children, and completed two years at Clarke Memorial College in Newton, Mississippi, receiving an Associate of Arts degree. He moved to Arizona to continue his education at Grand Canyon College in Phoenix. At the beginning of his senior year at GCC, he moved to Long Beach, California, where he served as Director of Music and Youth for First Southern Baptist Church. He completed his degree at California Baptist College in Riverside in 1972.
In 1975, he accepted a position as Director of Music and Youth at Bethel Baptist Church in Concord, California near Oakland, where he continued his education at Golden Gate Seminary. He resigned his position after two- and-a-half years, but he continued at Golden Gate, making his living in the building trades and ministering through Christian High Adventure, a mountaineering school sponsored by the Southern Baptist Home Mission Board. He completed a Masters in Religious Education in 1979, and in 1981 accepted a call from the First Southern Baptist Church of Avondale, Arizona, to serve as Director of Music and Education. After nearly six years there, he resigned that position to once again work in the building trades.

When Paul met his wife Anne and she introduced him to her church, Bethany Presbyterian of Phoenix, he once again joined the ministry. At the leading of Reverend John Robertson, Paul was asked to "supply preach" at Yarnell Community Presbyterian Church, where the elders asked him to continue as part-time pastor. It was then that Paul decided to explore the Commissioned Lay-Pastorate. Mentored and instructed by Rev. Jay Confair and Rev. Stan Jones, he was commissioned by the Presbytery of Grand Canyon on Sept. 21, 1996.
He served as a part-time pastor for many years at Yarnell Community Presbyterian, much of that time working as a handyman and managing a small ranch. The two "jobs" co-existed well until church growth required him full time because worship attendance had increased from about twenty to nearly seventy-five. During his tenure in Yarnell, the fellowship hall of the church was enlarged by one-third and the sanctuary was enlarged with a new chancel, choir room and ancillary room.

Paul has served not only Yarnell Presbyterian, but Grand Canyon Presbytery as well. In addition to serving on the Commission on Ministry, he was also a member of the Education and Reconciliation committees among others. Always seeking common ground for the common good, Paul was recognized by Presbytery with the George Brooks Humanitarian Award in 2014. During his 22 years of dedication and service, Paul has led the church to serve the community through good times and bad. His leadership after the Yarnell Hill Fire of 2013 was instrumental in the area's response and recovery. Throughout his years of ministry and service, God's hand has been clearly evident in Paul's work as he has modeled his life on his favorite passage from Micah: "What does the Lord require of you but to act justly and to love mercy and to walk humbly with your God."
The church is hosting a retirement party on Saturday, Nov. 18 from 3 to 5 p.m. at Model Creek School, 18912 Hays Ranch Road in Peeples Valley. Please RSVP to Nina by Friday, Nov. 3 by phone at 928-427-3421 or email nina@churchinyarnell.com as light refreshments will be served.
More like this story