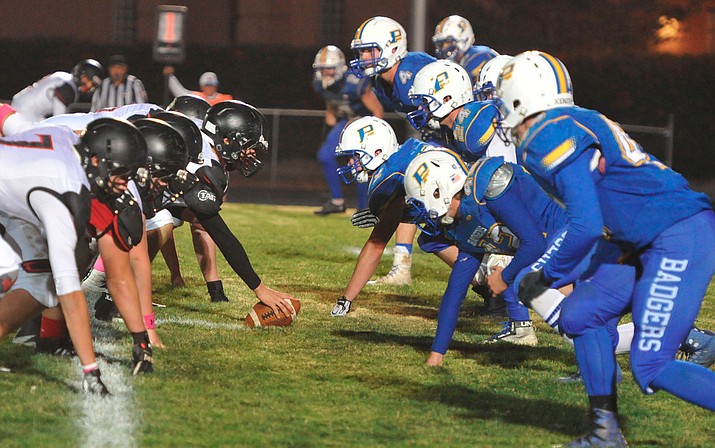 Originally Published: October 28, 2017 6:50 p.m.
Updated as of Sunday, October 29, 2017 6:27 AM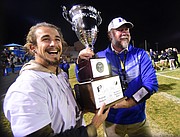 Every ounce of jubilation and excitement filling the hearts of Prescott football players and their fans after Friday night's win over a bitter cross-town rival quickly turned to despair, anger and frustration just 12 hours later.
Saturday morning's AIA Football Bracket Show revealed the Badgers will miss the 4A state playoffs for the fifth-straight season, a verdict most involved with the program are likely shaking their heads at.
"I was pretty upset this morning," Prescott head coach Michael Gilpin said in a phone interview Saturday night, adding the Badgers were the only 7-3 team not to make it into the 4A playoffs.
"It's kind of disbelief. … Our body of work should have put us in, it's not like we played a weak schedule," Gilpin said, adding later, "our boys played their butts off, and they deserve to be there."
After starting the season 2-2 with close losses to Marcos de Niza (15-14) and Moon Valley (33-27), Prescott rattled off five wins in their last six games to finish second in the Grand Canyon region.
"We're sitting at home right now and we're nine points away from a 9-1 football team, so I'd like someone to explain to me how we're not in the playoffs," Gilpin said about the point spread in the two losses to Marcos de Niza and Moon Valley.
4A STATE PLAYOFF GLANCE
Friday, Nov. 3
#16 Apache Junction at No. 1 Sunrise Mountain, 7 p.m.
No. 9 Marcos de Niza at No. 8 Cactus Shadows, 7 p.m.
No. 12 Moon Valley at No. 5 Cactus, 7 p.m.
No. 13 Pueblo Magnet at No. 4 Salpointe Catholic, 7 p.m.
No. 14 Buckeye Union at No. 3 Higley, 7 p.m.
No. 11 Catalina Foothills at No. 6 Seton Catholic, 7 p.m.
No. 10 Walden Grove at No. 7 Peoria, 7 p.m.
No. 15 Mingus at No. 2 Saguaro, 7 p.m.
The Badgers (7-3, 5-1 Grand Canyon) were 3-3 against teams that finished in the Top 25 this season, but just 1-3 against those that made the playoffs, the only win coming against Cactus Shadows (35-25) in Week 3.
Perhaps the loss that hurts the most, and will likely haunt the Badgers this entire offseason, came at the hands of region-rival Mingus, which beat Prescott at Bill Shepard Field 38-6 in Week 7.
The Marauders (5-5, 5-1 Grand Canyon) finished with a No. 17 ranking in the final power point poll, one behind Prescott at No. 16, but because they hold the tiebreaker over the Badgers, claimed the region title and received the automatic bid to state, bumping Prescott out of contention.
To make matters worse, No. 24-ranked Apache Junction (6-4, 5-0 Black Canyon) received an automatic bid after claiming the Black Canyon region title, making them the No. 16 seed in state and Mingus No. 15.
The Black Canyon region's other teams, including No. 34 Dysart, No. 36 Combs, No. 37 Washington, No. 41 Coronado and No. 43 Cortez, were a combined 11-39 this season.
Add that to the fact that of Apache Junction's six wins, five came against region opponents and the other against No. 35 Tempe, which won one game all season, and it's no wonder Prescott is feeling a little left out.
Brian M. Bergner Jr. is sports editor for The Daily Courier, the Prescott Valley Tribune and the Chino Valley Review. Follow him on Twitter at @SportsWriter52 or on Facebook at @SportsAboveTheFold. Email bbergner@prescottaz.com or call 928-445-3333, ext. 1106.