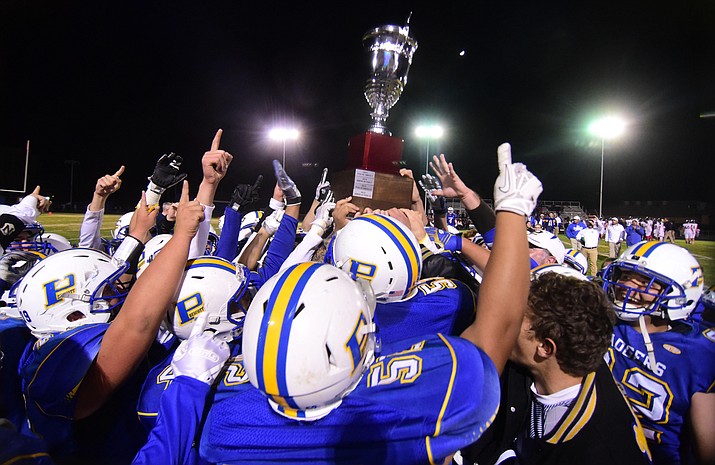 Originally Published: October 27, 2017 11 p.m.
Updated as of Saturday, October 28, 2017 12:28 AM
https://soundcloud.com/sportswriter52/coach-michael-gilpin-talks-about-prescotts-big-win-over-rival-bradshaw-mountain
Photo Gallery
PHS vs BMHS Football 102717
The Prescott football team likely earned its first 4A state playoff bid since 2012 with a 44-27 victory over cross-town rival Bradshaw Mountain on Friday night, but they may have to move forward without their star player.
Senior Ryan Greene, who had nine carries for 108 yards and two touchdowns in the first half, reportedly broke his collar bone during one of the final plays in the second quarter.
"I felt a popping," Greene said on the field after the game with his left arm in a sling and letterman jacket draped over his shoulders.
"I didn't know exactly what happened, but I never felt this type of pain before," Greene said. "I didn't know it was broken, exactly, but it started hurting a lot more as time went on."
Greene said he was headed to the hospital after the game to receive x-rays and confirm the injury, but Prescott trainers said he'll likely be out six to eight weeks.
"You obviously don't replace Ryan. … He's one of the greats to ever play at this school," an elated Prescott head coach Michael Gilpin said. "I hate seeing him hurt, I love the kid, but it's the game of football and Ryan sacrificed his body."
In the first quarter, No. 24-ranked Bradshaw Mountain (4-6, 4-2 Grand Canyon) drove right down the field and scored off an 18-yard touchdown pass from Austin Gonzales to Bryan Price, giving the Bears a 7-0 lead at the 8:15 mark.
After a 34-yard field goal by Bryce Peters, Prescott (7-3, 5-1 Grand Canyon) responded once again as Greene scored on a 66-yard TD run with 28.3 seconds left in the first quarter, giving the Badgers a 9-7 lead.
Greene scored his second TD of the night on a 9-yard run to begin the second quarter, then quarterback Austin Clark made it a 23-7 affair on a 16-yard TD run with 6:01 to play in the first half and the No. 15-ranked Badgers never trailed again.
Clark said with Greene going down with the injury, his mentality doesn't change entering next week.
"My mentality is to do what's best for the team. Ryan sacrificed his body, and I'm going to have to do the same. … We have to work as hard as we ever have," Clark said.
The junior signal caller completed 3 of 5 passes for 62 yards and a touchdown, and ran five times for 66 yards and another score.
Clark's passing score came 7 seconds into the fourth quarter when he hooked up with senior wide receiver John Chaffeur on a 20-yard TD pass.
Chaffeur said it "feels amazing" to beat their rival Bradshaw Mountain this season, especially since it may punch their ticket to a state playoff berth.
"Words honestly can't describe it. We've been in situations like this. … This is a great win, don't get me wrong. But Monday we have to come in with a clean slate and see who we have," Chaffeur said.
Ean Porter, a junior, was a workhorse for the Badgers on Friday night, carrying the ball 20 times for 89 yards and scoring a TD late in the fourth quarter.
"With Ryan going down, Sam [Giordan] and I knew we had to step up," Porter said. "We stayed true to our game, kept pounding them and as soon as they started giving up, we came pout on top."
UP NEXT
With Prescott taking care of business against the Bears on Friday night, Mingus (5-5, 5-1 Grand Canyon) claims the region title. The No. 16-ranked Marauders hold the tiebreaker thanks to a 38-6 win over Prescott on Oct. 6, the last time the Badgers lost a football game.
The AIA Bracket Show is scheduled to begin at 9 a.m. Saturday and will reveal the 16-team state playoff bracket. Fans can stream it live at azpreps365.com.
Brian M. Bergner Jr. is sports editor for The Daily Courier, the Prescott Valley Tribune and the Chino Valley Review. Follow him on Twitter at @SportsWriter52 or on Facebook @SportsAboveTheFold. Email bbergner@prescottaz.com or call 928-445-3333, ext. 1106.