Originally Published: October 26, 2017 6:17 p.m.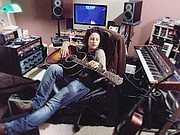 Nashville-based and Georgia-grown outlaw country rocker Sarah Peacock is coming to Prescott Valley, something that was entirely her idea, say town officials.
"She called us and was like 'I'm going to be in Flagstaff, I've got Sunday or Monday available if you guys want to work together to do a show,'" said Prescott Valley Parks & Recreation Special Events & Arts Coordinator Hope Hooper. "It was all her, she has a good following out here and she wants to do something for her fans out here. I believe she lived around this area and that was part of it too."
After that initial call, Hooper said she looked into Peacock and knew that Prescott Valley had to have someone of her caliber come perform at the Theater on the Green, 7501 E. Civic Circle. However, it might never have happened as there wasn't enough in the budget to have her come, but she and her manager worked with the town to make it happen, she said.
Since 2005, Peacock has toured more than 200 dates and has released six albums, according to a story in this week's Prescott Valley Tribune. She's also received a number of awards for her songwriting, including Best Song in the 2014 American Songwriting Awards for her ballad, "Hurricane" and was nominated Best Female Artist in the International Acoustic Music Awards for "Are We There Yet."
Peacock had some tough times growing up, such as being bullied in middle and high school and struggling to find an authentic voice. "But to spare myself the pain would be to spare the lessons, and I'm not so sure I didn't need every single one. All of those experiences, collectively, have made me the person and artist I am today," Peacock said in the story.
Held at 3 p.m. on Sunday, Oct. 29, the show works with the town's wanting to use the space more, Hooper said.
"That's what we're all about, if we can do something big like this, let's do it … having someone of this caliber definitely makes the space worth it," she said. "Hopefully having folks like her come out will encourage other big acts to come out. I know we'll be doing outreach for artists for the 2018 season too, so hopefully adding that to the list of people that we've had perform here will be helpful."
Hooper said she hopes this concert is a preview for how 2018 will be, adding that's the 40th anniversary for the town.
Admission to the show is $10 for general admission and $5 for kids, seniors and military. There'll be food and beverages for sale and it'll be a great chance to come out and enjoy time with family while enjoying a good event, Hooper said.
Even Prescott Valley Parks & Recreation Director Brian Witty said it looks like having Sarah Peacock is going to translate into a good time.
"I think she's going to be fun," Witty said.