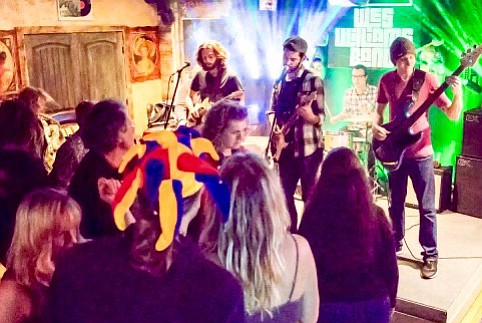 Originally Published: October 26, 2017 9:31 p.m.
There's only one place in Prescott that has the biggest Halloween happening this year: The Elks Theatre and Performing Arts Center.
It's the first-ever Halloween Ball, featuring music by the Wes Williams Band, with Sugar and the Mint opening. The idea came up when doing their first show at the Elks Theatre back in May, said Wes Williams. Halloween was coming up and looked like the perfect time, so they booked it. It'll be on Friday, Oct. 27, from 8 p.m. to midnight.

"We pioneered a local Prescott band playing somewhere big like the Elks," he said. "Since then, it's kind of opened the door … to some other bands in Prescott that have a bigger fan base."
Sugar and the Mint's lead vocalist, Johan Glidden, is unbelievable at everything he does, from his singing to his guitar and fiddle playing, Williams said. They took first place in the 2017 Band Contest at the 44th annual Telluride Bluegrass Festival and are the first confirmed act for the festival's main stage in 2018, he said. Out of 10 or 15 bands competing, they won in front of a 10,000-person audience.
Among the set list are some special Halloween covers that aren't going to be revealed until the show itself, he said. Tickets are $25 for VIP seating, which is the first five rows and $20 for all other seating.
The Wes Williams Band and Sugar and the Mint aren't all that's going to be at the Halloween Ball though, as Williams said he's gotten his photographer friends together for a red carpet in the lobby. When walking in, people can have their picture taken in front of a backdrop while in costume, he said. There's also a costume contest with prizes, a $600 value prize for first place, a $300 value prize for second place and a $150 value prize for third place. It is asked that no fake or real weapons be included in costumes.
"It's a big thing for us as far as Halloween goes in Prescott," Williams said. "It's got an old school kind of theme to it. It's as big as it's going to get for Prescott and Halloween."
Williams said he's really excited to be back at the Elks as it's going to be his first show back in town after having been gone for a couple months. The band sounds better than ever and it'll be great for whoever comes to see how much they've grown.
Tickets are available online at www.prescottelkstheater.com, by calling 928-777-1370 or at the door one hour prior to the performance.
More like this story