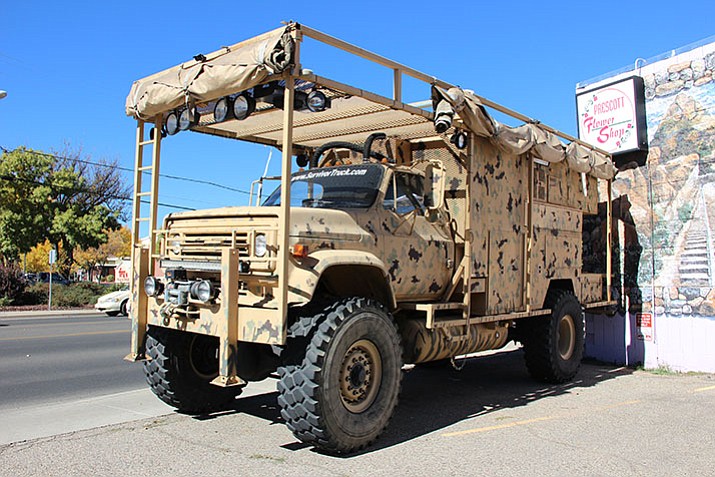 Originally Published: October 25, 2017 6:01 a.m.
Conspiracy theories and doomsday predictions aside, prepping is fundamentally the practice of being prepared for whatever may come.
"Everyone is a prepper, but it is to what degree you want to be prepared," said Terry Schultheiss, a local prepper. "The oldest adage is it's better to have it and not need it, than need it and not have it; so you pick and choose what you need to do. Water, fire, shelter, food, the basic necessities. If you can cover those, you're gold."
Schultheiss labels himself a real prepper, as opposed to a mall prepper or panic prepper — terms he uses for those who actively pursue means of disaster preparedness.
"Mall preppers: These are the people who will go out, buy all the cool gadgets, leave them in their original packaging, put them in their closets, and tell themselves 'I'm ready for an emergency,'" Schultheiss said.
"The panic preppers are the ones that say 'the sky is falling, the world's gonna blow up tomorrow and I'm going to lay awake at night with nightmares that the world's going to come to an end and I'm not ready.
"Then there's what I call the real preppers. These are the people who are embracing the lifestyle of independence and being independent, so if an emergency happens, I already have the basic skills. It's the basic skills that we've forgotten over time. It becomes a hobby, a lifestyle and I enjoy doing it."
One example of how he's currently applying this mentality is through simple observation and reaction to opportunity. He lives in the Bradshaw Mountains and is surrounded by old apple trees belonging to his neighbor. Every year, he watches as at least half the apples fall off their trees and rot with no one to harvest them.
"So I went out last year and looked into how we used to do it," Schultheiss said. "I got an apple press and I'm making apple juice, hard cider, apple chips, apple sauce, apple pies; I'm sick of apples, but nothing's going to waste and we're enjoying it."
He and his family were also evacuated from their home this last summer during the Goodwin Fire. Being proficient in amateur radio, he was able to keep track of updates coming from the frontline.

"Our neighbors were coming up to us and asking me 'how do you know this and how do you know that?'" Schultheiss said. "I said because we're listening to all of the frequencies; because we prepared for that."
Origin of preppers
While he isn't Mormon, Schultheiss credits the Church of Jesus Christ of Latter-day Saints (LDS) for really starting what has gradually become more of a mainstream movement.
"They were the original preppers," he said.
Stephen Smith is a member of the Church and accepts this credit.
After the LDS community in the United States experienced a number of tragedies in the mid-1800s during a mass migration to Salt Lake City, Utah, and then during the Dust Bowl era in the 1930s, being prepared for tough times became one of the church's pillars.
"We're engaged 365 days a year," Smith said. "It's not from a fear standpoint, but this is the way we do business. This is the way we live."
Much of what they encourage among their members is storing enough supplies to outlast a disruption in their daily lives and to help others within their community when they're in need, Smith said.
"Part of our preparation is food storage, part of it is medical, but part of it is also financial," he said. "Our church has said 'get out of debt, stay out of debt, avoid debt like the plague.'"
For more information about preparation practices within the Church of Jesus Christ and Latter-day Saints, much is outlined on providentliving.lds.org.
Tools for prepping
For anyone looking to improve their level of preparedness, there are simple steps to get started.
"On the practical end, if you believe that everything is okay, but just in case, you start with food," said Gary Rees, co-owner of One Stop Survival, a business in Prescott that sells and teaches everything related to survival from the basic to the hardcore.
This may mean gradually buying an extra week's worth of non-perishable consumables every month and stocking them away for a rainy year, or even buying pre-packaged emergency food survival kits, which are sold at places like One Stop Survival and Costco. These kits come in large, sealed plastic buckets and can have anywhere from a couple days' worth of food to a 30-day supply with a 20-year shelf life.
From there, some basic precautions one can take are having weather and fireproof storage for valuables and always keeping a panic bag packed.
"If a fire comes up and you need to get out of Dodge, you want to have at least something packed with your family photos, your valuables, marriage license, that stuff and a fireproof safe," Rees said. "These are disaster things, not doom and gloom."
On the other end of the spectrum, however, the store does sell some items that many people might find extreme.
These include customized trucks built for survival in extreme conditions, rifles that can hit a target from a mile away and cargo containers that have been converted into heavy-duty survival shelters.
"Some of it is over the top, but most of our customers are ex-special forces, so this is tactical gear that is literally used in the field," Rees said.
More like this story