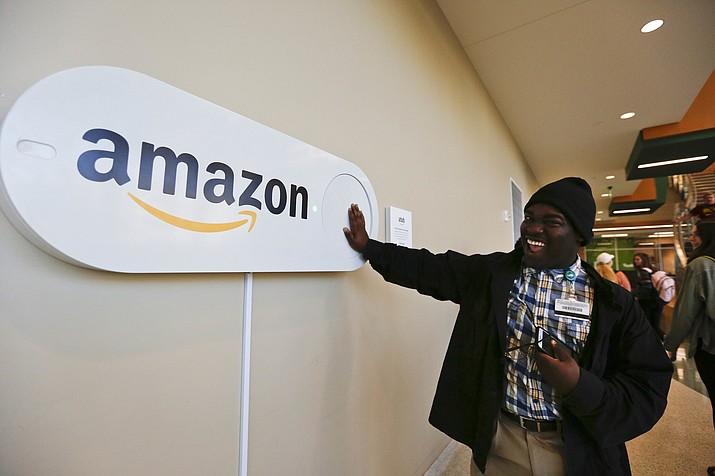 Originally Published: October 23, 2017 6:04 a.m.
Amazon announced plans to open a second world headquarters and promised $5 billion in investments, causing cities across North America to come up with innovative ideas the company to bring those 50,000 "high-paying" jobs to their town.
Tucson even sent a cactus to Seattle, but it was returned. No gifts allowed.
The company, in its application form, lays out what it is looking for. Tax structure is high on the list. So is being near an international airport, in an area with at least 1 million people, and good public transportation.
Communities in both the Phoenix and Tucson metro areas reportedly submitted bids.
Two other key factors for Amazon are having a highly-skilled labor force and community/quality of life, being an area where people would want to live, you know, a place with good schools for their children.
Uh-oh.
Just a hunch, but I doubt HQ2, as it's being called, lands in Arizona. If you could choose anywhere to live, would you pick a place that ranks as low in public education — 49th in spending and 41st in performance out of the 50 states and Washington, D.C. — as Arizona does?
Amazon will have to recruit employees, competing against tech giants in Silicon Valley and Seattle. Yes, come live in Arizona, home of the Grand Canyon, the red rocks of Sedona, and public schools that rank in the bottom fifth of America.
If Amazon doesn't want to pay a lot in relocation costs, can it rely on the local labor force to fill those jobs when this state treats education as an afterthought?
Economists at Arizona State University's W.P. Carey School of Business estimate the state has lost $4 billion from its 2016 general fund because of all the tax cuts that have taken effect over the past two decades.
More corporate tax cuts are scheduled to go into effect through 2019, meaning the state will have to continue to reduce spending. Last week we reported the state may need to chop an additional $200 million from next year's budget.
There's a price to be paid for all those corporate tax cuts, and unfortunately, it's our children who are paying that price.
Arizona residents paid 30 percent less in taxes in 2015 than they did in 1992, according to that ASU report by economists Tom Rex and Dennis Hoffman.
As recently as the 1980s, Arizona was at the national average on per pupil spending. Now, we're nearly $3,400 below the national average. (Arizona spent $9,136 per student in 2016; the national average was $12,496).
The Arizona Republic quoted Mike Huckins, the Greater Phoenix Chamber of Commerce Vice President of Public Affairs, saying that the tax rate is definitely one factor businesses look at when deciding where to locate.
But, it's only one factor.
"The tax structure is an important part of what businesses focus on when looking to relocate here or expand, but so is the education status of the state," Huckins said. "If there's room in the budget to do both, then let's have a conversation. But we don't want to hurt one to do the other."
Kansas lawmakers thought dramatic tax cuts would bring companies to that state and lead to an economic boom. It didn't, and Republicans voted tax hikes back in because services were cut too much and its economy was struggling.
Wyoming is one of the least-taxed states in the union, relying on mineral rights to pay most of the bills. That's drying up, and 11,000 state employees lost their jobs because of the downturn in funding. Some Republicans there are considering a state income tax for the first time.
Arizona continues to cut taxes thinking it will bring lots of new jobs and a great economy. Too bad our lawmakers forgot one very important thing. People don't want to locate their multi-billion dollar companies in a state that can't properly fund public education.