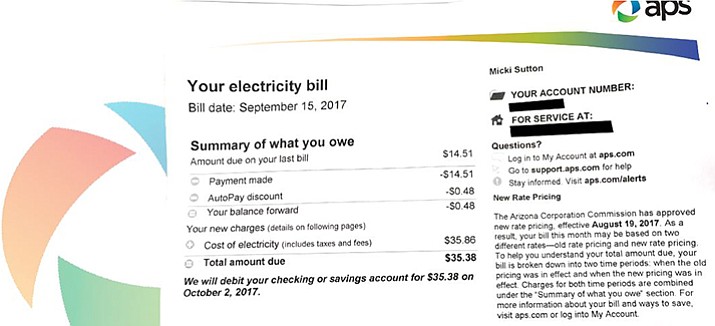 Originally Published: October 22, 2017 6:02 a.m.
Electric bills have gone up and people are taking notice.
"I noticed it this last month when I went onto the computer to see what the auto pay was," said Prescott Valley resident Burt Harper.
Following an extensive rate case, the Arizona Corporation Commission approved in August a request by Arizona Public Service (APS) to increase its basic service charge and make some adjustments to how it charges customers for the electricity they use. Those new rates went into effect on Aug. 19.
For some, this translated to only a few dollars extra each month — the average household saw a $6 increase in their bill.
For others, the difference was more significant.
Prescott resident Micki Sutton, for instance, was shocked when she saw her Sept. 15 bill. Instead of a bill for somewhere between $12 and $20 like she was used to, she was now looking at $35.38. Her October bill, which she just received, is even higher at $43.28.
As a 74-year-old retiree, the jump in cost is not easy for her to gap.

"Living on a fixed income, it's hard enough to pay my bills," Sutton said. "I can understand a small increase, but to more than double it becomes very difficult."
Part of the increase was due to the standard hike everyone experienced, but what made the most impact was an overhaul to APS's Energy Support Program (E-3).
The limited-income program is reserved for those making 150 percent or less of the federal poverty level. Since she lives on her own in a studio apartment, the max monthly income she can have in order to qualify is $1,507. For each additional person in a household, that maximum goes up by $522.
Throughout the state, there are about 60,000 people currently enrolled in E-3, APS officials said. For Yavapai County specifically, the enrollment was at about 6,600 in May 2017.
When the new rates went into effect, a change was made to the E-3 program for the first time since its inception in 1987.
Previously, the discount a customer received was based on the amount of electricity they consumed. The less electricity a household used, the higher the discount. This is how it broke down:
Energy used and associated Discount
400 kWh or less 65%
401-800 kWh 45%
801-1,200 kWh 26%
More than 1,200 kWh $31.75 (maximum discount amount)
Sutton's average monthly electricity use is well below 400 kWh, so she was receiving the full 65 percent off her bill.
Now, everyone on the program receives a flat 25 percent discount.
"A flat 25 percent discount is easier for folks to be able to ensure or prepare their budgets and make sure that they're responding and managing the energy in their homes more appropriately as a result," said Kerri Carnes, manager of State Regulation and Compliance for APS.
Jerry Mendoza, program manager of APS Customer Assistance Programs, said it may seem like APS is decreasing its support for Arizona's low-income in the state when you look at specific cases, but overall, more money is being pumped into the program.
"You're always going to have some winners and losers I guess, but overall, we're actually going to be putting more money into that particular bucket," he said.
Last year, the net value for the E-3 discount to customers was about $35 million, Mendoza said. Now, because of the rate settlement, that goes up to $48 million. Part of that computation takes into account the elimination of the $31.75 discount maximum for high-volume users.
More like this story