Originally Published: October 19, 2017 5:25 p.m.
Updated as of Thursday, October 19, 2017 11:25 PM
2017 NBA Gatorade League Draft
Saturday, Oct. 21, 10 a.m.
FIRST ROUND-TOP 15
1) Iowa Wolves
2) Salt Lake City Stars
3) Lakeland Magic
4) Long Island Nets
5) Westchester Knicks
6) Northern Arizona Suns (from Greensboro)
7) Reno Bighorns
8) Northern Arizona Suns
9) Windy City Bulls
10) South Bay Lakers (from Texas)
11) Northern Arizona Suns (from Austin)
12) Delaware 87ers
13) Grand Rapids Drive
14) Sioux Falls Skyforce
15) Agua Caliente Clippers of Ontario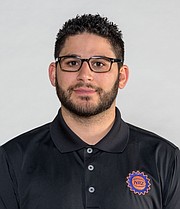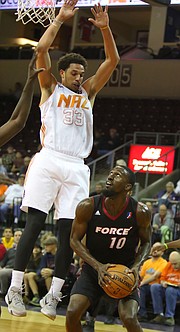 With three of the first 11 picks in the 2017 NBA Gatorade League Draft, the Northern Arizona Suns are looking to improve dramatically for the upcoming season in Prescott Valley.
And with training camp around the corner, Northern Arizona's front office staff is confident they'll make it happen.
The Suns possess a total of six picks in this year's G League draft, which takes place Saturday at 10 a.m.
Louis Lehman, who was promoted to general manager in place of Bubba Burrage, the Suns announced Thursday, said the club has plenty of "flexibility" when it comes to the draft board.
"There are a lot of options. … We want the best player and the best fit for the team, and that involves on the court and off the court," Lehman said, adding the club made a series of moves last season to set themselves up for this type of draft heading into year two.
"We were fortunate to have enough guys returning that we liked [last season]," Lehman said. "Our intention with these picks is to use them in the upcoming draft, or a trade."
Northern Arizona's first selection will come at No. 6, a pick they received via a trade from Greensboro last season. They also hold the No. 8 and No. 11 (from Austin) overall picks.
Lehman said the Suns are happy picking at No. 6, but if the right deal came along from another club looking to move up in the draft, he'd listen.
"I've gotten calls from teams looking to move up in the draft. … We'll take a look," Lehman said.
Deadline for pre-draft trades is 8 a.m. Arizona time on Friday.
The Suns drafted former UC-Santa Barbara guard Michael Bryson with the No. 8 overall pick a year ago. Originally from Sacramento, California, Bryson averaged 5.1 points in 46 games played during his rookie campaign in Prescott Valley.
The Iowa Wolves kickoff this year's draft with the No. 1 overall pick, while Salt Lake City (No. 2), Lakeland (No. 3), Long Island (No. 4) and Westchester (No. 5) follow.
RETURNING PLAYERS
Six players from last year's inaugural Suns roster re-signed to play for the G League this season, and since Northern Arizona holds their player rights, they'll be in Prescott Valley for training camp next week.
Bryson, Askia Booker, Josh Gray, Shaq Harrison, Xavier Silas and Asaad Woods are all returning for their second season in a Suns uniform.
Deonte Burton, a former Nevada standout and guard for the Bakersfield Jam, will also return to the G League this season and be in training camp for the Suns.
Burton played the 2016-2017 campaign for Lille Metropole of France's LNB Pro B league.
The parent-club Phoenix Suns currently have Mike James, a 6-foot-1 guard out of Lamar, and Alec Peters, the club's second round draft pick in June, on its roster. Both James and Peters are two-way contract players, but they are not expected to be in Prescott Valley when camp begins Monday, Oct. 23.
ON THE MOVE
Entering his sixth season with the Phoenix Suns organization, the 28-year-old Lehman was assistant GM last year, and for Bakersfield in 2015-2016.
Former director of basketball operations and player personnel Dylan DeBusk will fill Lehman's previous role of assistant GM.
Brian M. Bergner Jr. is associate sports editor and a columnist for The Daily Courier. Follow him on Twitter, Instagram and SoundCloud at @SportsWriter52, or on Facebook at @SportsAboveTheFold. Reach him at bbergner@prescottaz.com or 928-445-3333, ext. 1106.