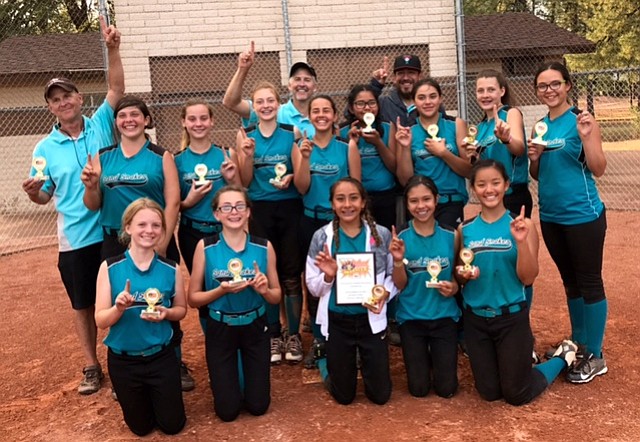 Originally Published: October 19, 2017 6:04 a.m.
Prescott's own Arizona Sand Snakes girls' softball team won its third consecutive tournament Oct. 1, taking home the title trophy of the 12U age division at USA Softball's Phoenix Future Stars tournament.
It was the fourth tournament victory for the Sand Snakes in their last five tourney appearances.
In the Future Stars at Rose Mofford Sports Complex in Phoenix, coach Bill Weber gave the offensive MVP award to Ruby Tessman for highest team on-base percentage. Defensive MVP honors were given to catcher Peyton Weber and pitcher Mia Luzania. The "Iron Woman" award went to Aleah Murillo for her "toughness and tenacity."
The Snakes compiled a 2-1 record in pool play and entered bracket play as the No. 2 seed. They defeated the AZ Suncats of Glendale in the semifinals, 9-3, before moving up to the championship final against Vendetta of Gilbert.
Arizona trailed 7-5 in the fourth inning to Vendetta until Ruby Tessman blasted a line-drive two-run double to the centerfield fence to tie it up. The Snakes went on to win, 10-7.
On Sept. 9 and 10 at the National Softball Association's (NSA) End of Summer Madness tournament in Payson, the Snakes went 2-1 after pool play, tallying wins over AZ Stat, 9-0, and Storm Fastpitch, 14-2. AZ Force handed the Snakes their lone loss, 10-9.
As the No. 3 seed in bracket play, the Snakes shut out Storm Fastpitch, 12-0, and the AZ Outlaws, 16-2, to qualify for the championship game. They beat AZ Stat, 8-5, to win the tourney title.
The Snakes had a victory party Sept. 12. Coach Weber awarded game balls to the following players: Aleah Murillo (aggressive base running and defense), Madison Vick (offense, attitude and improved play),
Tessa Martinez (aggressive offense and defense) and Yasmine Bernal (masterful pitching).
Weber also paid tribute to the pitchers and catchers for their "calm, cool and collected control of every game." The Snakes scored a total of 68 runs at the two-day tournament.
Follow Doug Cook on Twitter @dougout_dc. Reach him at 928-445-3333 ext. 2039, or via email at dcook@prescottaz.com.
More like this story