Originally Published: October 19, 2017 5:55 a.m.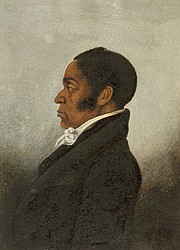 The American Patriot's Daily Almanac is a website by Bill Bennett and John T.E. Cribb that publishes historical events that happened every day in American history. They recently told about a little-known Patriot, James Forten, the grandson of a slave, who was born a freeman in Philadelphia in 1766. At the age of 14 he heard a reading of the Declaration of Independence and was inspired to join the fight against the British. In 1781, Forten became a prisoner when his ship was captured. While many black prisoners were sold to slavers, the British captain liked Forten and offered to take him back to England. Patriot Forten responded, "I have been taken prisoner for the liberties of my country, and never will prove a traitor to her interest!"
Later in life, Forten became a successful sailmaker and a wealthy man. He recruited blacks to protect Philadelphia during the War of 1812. Forten aided in organizing the American Anti-Slavery Society, aided runaway slaves, and monetarily supported the "Liberator," an abolitionist newspaper. James Forten is the personification that, even though our country has flaws, we continue to attempt to make it "a more perfect union."
Compare James Forten to the millionaire NFL whiners who are taking a knee during our national anthem. There is an increase this year in players kneeling or sitting during the national anthem. The fans responded in an enormously negative way, booing at the offending players at the stadiums and turning off their TVs. The NFL's cravenly politically correct response was to show "solidarity" during the playing of the anthem by locking arms with each other and the owners and coaches. Now apologists for the players are saying the players aren't disrespecting the flag or the anthem, they're protesting racial profiling, systemic racism, driving while black, police brutality and genocide. (Using that same illogical argument, if you had a complaint about the Daily Courier, you would go protest in front of Walmart.)
Colin Kaepernick, who started this whole circus last year, gave the following reason: "I am not going to stand up to show pride in a flag for a country that oppresses black people and people of color," So while Kaepernick admits he was disrespectful of the flag, the sheep that are following him are baaing to a different tune.
The whole premise of the football player's allegations are based on a lie, "Hands up, don't shoot." It didn't happen. Even President Obama's Justice Department under Attorney General Eric Holder came to that conclusion. Al Sharpton and the media's constant harangue against the police has brainwashed these athletes into believing a myth. The number of blacks killed by police nationwide in a year is a fraction of the number of blacks killed by other blacks just in Chicago.
The real danger is in the opposite direction. According to Heather Mac Donald of the Manhattan Institute, "Over the last decade, an officer's chance of getting killed by a black has been 18.5 times higher than the chance of an unarmed black getting killed by a cop."
Another fairy tale that the left and the media perpetuate is racial profiling, especially the fabrication of "driving while black." If you don't believe that, take this test. While you are driving, see if you can spot a speeder, an illegal lane change or a car running a red light. Then see if you can tell the gender of the driver, let alone the race. This is even more difficult at night. Facts are just facts. They're not racist, they just illuminate the truth.
Buz Williams is a retired Long Beach, California, police officer who has lived in Prescott since 2004.