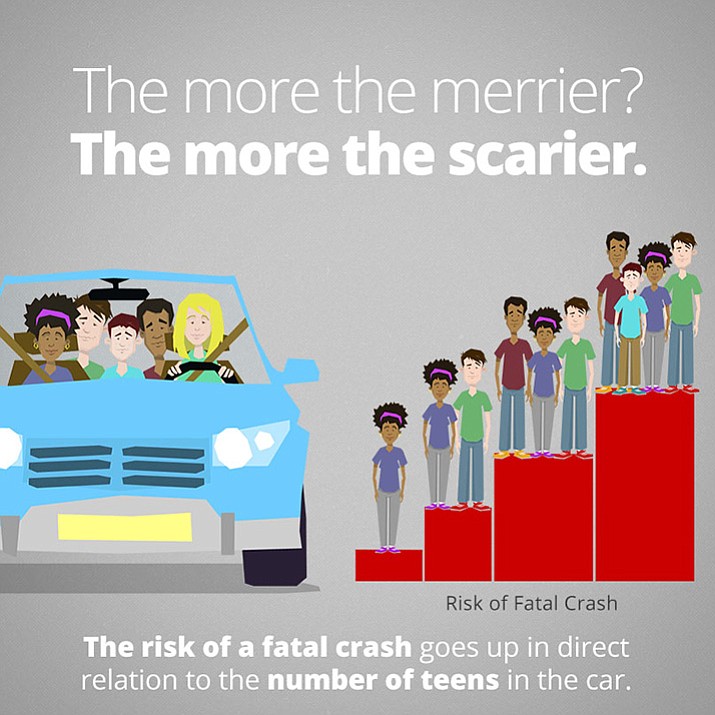 Originally Published: October 18, 2017 6:02 a.m.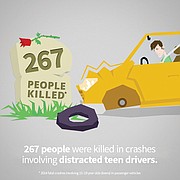 Motor vehicle crashes are the leading cause of death for teens in the United States, according to the National Highway Traffic Safety Administration. In 2015, 1,972 teen passenger-vehicle drivers between 15 and 18 years old were involved in fatal traffic crashes, resulting in 2,207 deaths nationwide. An estimated 99,000 teen drivers of passenger vehicles were injured in vehicle traffic crashes.
The Centers for Disease Control and Prevention said drivers younger than 20 have the highest proportion of distraction-related fatal crashes.
"We know that 94 percent of all car crashes are caused by human choice or error," said U.S. Transportation Secretary Anthony Foxx. "We have to do better, and as parents we should all model, teach, and enforce good driving habits for our young drivers."
National Teen Driver Safety Week, Oct. 15-21, encourages parents to talk to their teen drivers about safety and the rules of the road.
Prescott Valley Police spokesman Sgt. Jason Kaufman recommends that teens avoid distractions while driving. This includes obvious things like not talking on a phone while behind the wheel, but also, he suggested, "Choose a radio station that you want to listen to prior to starting your journey, so you are not taking your eyes off the road."
And, of course, never text and drive, he said. At 55 mph, if a driver looks away from the road to read a text for five seconds, the car will travel nearly the length of a football field during the time the driver is reading.
Kaufman also suggests not allowing teen drivers to drive with their friends; the AAA Foundation for Traffic Safety said in a report that having one peer in the car makes a 16- or 17-year-old driver 44 percent more likely to crash.
"Having three or more passengers younger than age 21 was associated with roughly a quadrupling of a driver's risk of being killed in a crash, compared with having no passengers," the report said.
Seat belts save lives, but, ac cording to a NHTSA report, 58 percent of those killed in crashes with teen drivers weren't wearing seat belts, and, "more troubling, in 84 percent of cases when the teen driver was unbuckled, the passengers were also unbuckled."
Speeding results in crashes; NHTSA said almost a third of the cars in fatal crashes involving teen drivers were speeding.
"Remember to leave early if you need to be somewhere so you are not included to exceed the speed limits to get where you are going," Kaufman said.
Surveys show that teens with parents who set firm rules for driving typically engage in less risky driving behaviors and are involved in fewer crashes, the report states.
Finally, one basic rule that's often overlooked: Always drive with both hands on the wheel, Kaufman said.
More like this story