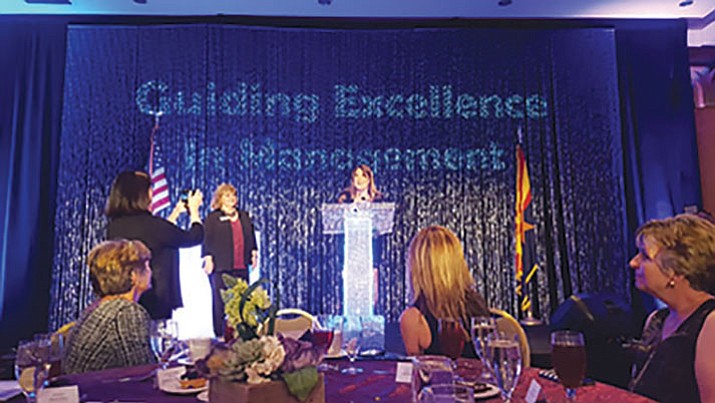 Originally Published: October 15, 2017 5:59 a.m.
Prescott Community Association Manager Dawn Harris of Tri-City Property Management was recently awarded the Manager of the Year at the Arizona Association of Community Manager's (AACM's) 9th annual GEM Awards (Guiding Excellence in Management) held at a banquet in Phoenix on Sept. 20.
The award is designed to offer recognition to a manager who shows respect to fellow employees, builds positive working relationships, participates in industry activities, and demonstrates an ability to promote the industry in a positive manner. Nominees are further selected based on loyalty to consumer clients, and dedication to working professionally and ethically with AACM Affiliate Partners.
Harris was honored for her high standards of professionalism in community management and passion for the communities she represents. She possesses a CAAM designation and was also a semi-finalist for the 2013 National On-Site Manager of the Year.

Professionally, Harris has over 15 years of experience in homeowner association management, both on-site and portfolio, and is fluent in land/property acquisition, including managing transitions from developer-controlled boards to directors to homeowners. She has worked with single-family, planned communities, condominiums and commercial entities.
About the award, Harris says, "First, it's just an honor to be nominated, and very humbling to be chosen as this year's recipient. Our company, Tri-City Property Management, has done quite a bit to help the communities we serve in the Prescott area—and in cities as far as Kingman—from helping them becoming financially sound to addressing ongoing issues that were affecting the communities from previous years and with previous management companies. It is great to have our office established with serving the associations in the quad-city area and beyond."
Harris was among more than 60 community managers statewide who were nominated for this year's awards, and knows it takes dedication and effort to earn the honor. She states, "I have a wonderful team; I could not perform my job without the support and professional guidance they provide."
For the GEM Awards, Community Managers are nominated from association boards whose communities they service, as well as by their peers in the industry. Harris's recent efforts for the 2016-2017 nomination term included taking one community from the brink of insolvency with significant deferred maintenance and fiscal challenges, to a position of solvency with a structured plan to improve conditions.

Tri-City Property Management President, Jean-Marie Bellington states: "We understand from AACM that several board members from multiple communities submitted consideration for Dawn. Truly, we couldn't be more proud of her. She has accomplished so much in such a short amount of time for the Prescott area communities who understand the importance of having a management company committed to education and ethics."
---
Tri-City Property Management has been established in Mesa for over 43 years. The office in Prescott services communities in Yavapai County and is located at 1490 W. Gurley St. The office in Mesa services communities in the East Valley.
Information and photo provided by Tri-City Property.
More like this story