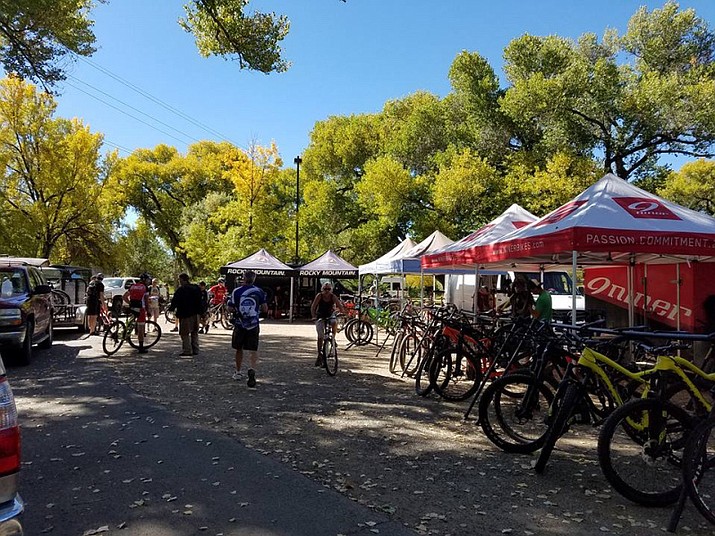 Originally Published: October 12, 2017 9:04 p.m.
Organizers of this year's Prescott Mountain Bike Festival say it'll be fun for everyone, even for those who aren't really into biking.
"We're trying to make it a fun hangout. Even if you don't ride on the trail, you can still come down, play our games, have some beer, we'll have our food trucks there," said Brooke Weitkunat of the Prescott Mountain Bike Alliance. "You can watch all the other people play the games if you don't want to, we'll have our DJ there, so we'll have some music. It'll be nice."
Two years ago, the festival went under the name "Wonderschlautt," but it was changed officially to the Prescott Mountain Bike Festival because people weren't able to determine what "Wonderschlautt" was and as such didn't associate it with the event, Weitkunat said.
Held from Friday to Sunday, Oct. 13-15 at Granite Creek Park, the festival has a full schedule of events, including a five hour, 35 mile, 3,700 foot climb epic ride, demo bike trucks, games such as a track stand competition, bunny hop competition, a wheelie contest, a bike swap meet and an Enduro race. Shuttle services will be provided throughout the day on Saturday starting at 9 a.m. Cost for the shuttle is $5 per shuttle or $10 for the entire day.
New this year are those demo trucks, which will allow people to take different companies' bikes for a ride to see how they like them, Weitkunat said. There'll be vendors like Niner, Rocky Mountain Bicycles, ibis, Ironclad Bicycles and an electronic bicycle company called Haibike.
The festival is free to attend and organizers are looking to support the Yavapai Food Bank, Weitkunat said. The Alliance has donated to them before and they want to continue that support, she said. The
"Anybody who comes down to the festival is encouraged to bring two cans or $5 to donate and that lets you basically participate in everything," she said. "We're trying to get some more donations for the Yavapai Food Bank going into the holiday season, so we thought this was a good time to help bring awareness to that."
For more information about the festival, visit www.prescottmtb.com.